Theory:
What is nomenclature?
The system of
naming
organisms is known as
nomenclature
.
Importance of nomenclature:
Nomenclature
is a system that helps people to identify an organism with
a standard name anywhere in the world
.
The system of nomenclature names the organism by a name that mentions the genus and species name of the organism.
This concept of giving name which
denotes the genus and species for the organism
is known as
binomial nomenclature
.
The naming of organisms with
two names
is known as
binomial nomenclature
.
It was introduced by
Gaspard Bauhin
in \(1623\) and was implemented by
Carolus Linnaeus
in \(1753\). Hence
Carolus Linnaeus was known as the '

Father of Modern Taxonomy'
.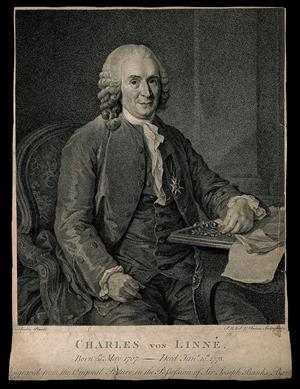 Carolus Linnaeus
According to this system, the name consists of two parts:
a generic
a specific epithet.
The first name is the Genus name or Generic name that starts with a capital letter, and the Species name starts with a small letter.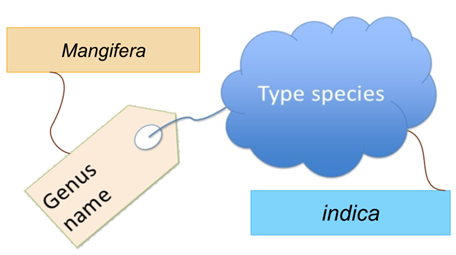 Example of binomial nomenclature - Mangifera indica
The nomenclature for
onion
is
Allium cepa
. The genus name is
Allium
, and the species name is
cepa
.
Lion: Panthera leo
Tiger: Panthera Tigris
Mango: Mangifera indica
The
local name
which is familiar at a particular place is known as
the

vernacular name
.
The binomial name is a universal name that never changes.
The classification and binomial nomenclature of organisms help scientists identify any organism and place it in a particular hierarchy.
Scientific names of some organisms:
| | | |
| --- | --- | --- |
| S.No | Common name | Scientific name |
| 1. | Human beings | Homo sapiens |
| 2. | Onion | Allium cepa |
| 3. | Rat | Rattus rattus |
| 4. | Pigeon | Columba livia |
| 5. | Tamarind | Tamarindus indica |
| 6. | Lime | Citrus aurantifolia |
| 7. | Neem Tree | Azadirachta indica |
| 8. | Frog | Rana hexadactyla |
| 9. | Coconut | Cocos nucifera |
| 10. | Paddy | Oryza sativa |
| 11. | Fish | Catla catla |
| 12. | Orange | Citrus sinensis |
| 13. | Ginger | Zingiber officinale |
| 14. | Papaya | Carica papaya |
| 15. | Date | Phoenix dactylifera |
https://upload.wikimedia.org/wikipedia/commons/thumb/d/d1/Carolus_Linnaeus._Stipple_engraving_by_S._G._%26_J._G._Facius_Wellcome_V0003605.jpg/1024px-Carolus_Linnaeus._Stipple_engraving_by_S._G._%26_J._G._Facius_Wellcome_V0003605.jpg
https://upload.wikimedia.org/wikipedia/commons/3/3c/Type-species-of-genus.png