PUMPA - THE SMART LEARNING APP
Take a 10 minutes test to understand your learning levels and get personalised training plan!
Download now on Google Play
Theory:
He stalks in his vivid stripes
The few steps of his cage,
On pads of velvet quiet,
In his quiet rage.
Explanation:
Earth is habitat to numerous living things other than Human beings. There are
animals
,
insects
, and other tiny creatures who have the same
freedom
to live and enjoy the gifts of
nature
just as humans do. The poet chooses one among these animals to elaborate on the idea of the distinction between freedom and
bondage
. In this aspect, the poem discusses the
tiger
predominantly.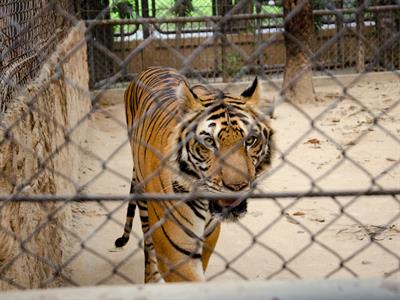 Tiger walking in a cage
The first stanza starts with a rather
unconventional
action to be attributed to a tiger. Norris says that the tiger is
stalking
. This word can be associated with the fact that the tiger does not remain
meek
and is eyeing the happening around him. The entire poem is a
personification
as the tiger is always addressed as
'

Him

'
. He is given the same prominence as any human being. At the beginning of the poem, he is not in a position to be in his free
true self
. Although he is not free, he does not submit to the situation and sleeps in a corner waiting to be fed. Rather he stalks around the cage. To stalk is to fiercely pursue something in a very
obsessive
way. So this shows that the tiger is looking and waiting for the chance to
pounce
.
He walks in his
vivid stripes
, as the tiger's stripes do not follow a set pattern. Like the stripes, his walk and plans are also vivid. It is
unpredictable
, but one can guess it would be
vengeful
. He measures every step that he takes, showing that he is very
discrete
and has laid his groundwork. He does not take quick and fast steps, rather they are very few and
slow
. The poet compares the feet of the tiger with that of
velvet
, mainly because of the fur and because they are valuable like velvet. The poet also says that the walk is accompanied not by doubts and pondering but by rage. Generally,
rage
is associated with a
loud outburst
and violent
demeanour
. But the tiger has quiet rage, which is even more dangerous, as the outburst can be huge.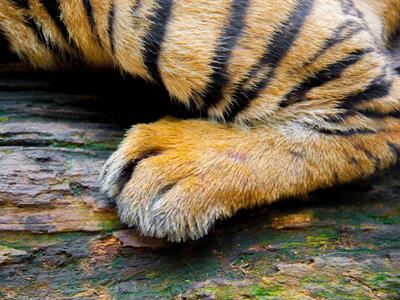 Tiger's foot
Meaning of difficult Words:
| | | |
| --- | --- | --- |
| S.No | Words | Meaning |
| 1 | Vivid | Having different shades |
| 2 | Stalk | To follow or observe keenly |
| 3 | Vengeful | Being revengeful |
| 4 | Velvet | A soft cloth |
| 5 | Rage | Extreme anger |
| 6 | Bondage | To be tied up |
| 7 | Pounce | To spring or jump suddenly |
| 8 | Demeanour | Outward behaviour |
| 9 | Unconventional | Not belonging to the traditional way |
| 10 | Meek | Quiet and peaceful |
| 11 | Ponder | To wonder and think deeply |
| 12 | Discrete | Secretive and quiet |
National Council of Educational Research and Training (2006). Beehive. A Tiger in the Zoo - Leslie Norris (pp. 29-31). Published at the Publication Division by the Secretary, National Council of Educational Research and Training, Sri Aurobindo Marg, New Delhi.