Frederic Ogden Nash
was born in
New York
,
America
, on
August \(19\)
, \(1902\). He was an American poet well known for his
humorous poetry
. He initially lived in a carriage house in Savannah, Georgia, with his family. This house was owned by Juliette Gordon Low, who happened to be the founder of the
Girl Scouts of America
. The very first poem that Nash wrote in his life was about Miss Low's house. He attended
St. George's School
and went on to join
Harvard
. But unfortunately, he dropped out of college a year later. But he went on to become the best poet in the literary circles.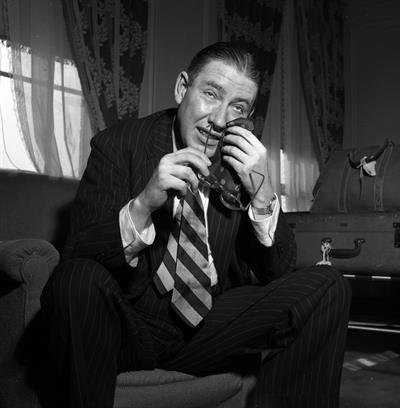 Ogden Nash*
Nash loved to use
rhymes
right from a very young age. He used to read poetry and observe the way the rhyme and metrics were used. Nash invented
new words
that did not exist in the language to bring in the rhyme in his poetry. He also admitted in his later period of life that it was not the easiest task. Nash initially worked as a
teacher
in his initial days. He had also worked as a
bond
salesman
. He did not do well in both jobs as his passion always lay in writing poetry.
His career in poetry was steeped in a more serious way when he took up a job as a
writer
in street card ads. This is where he met the most famous writer
Francis Scott Fitzgerald
. He took up creative writing here. He worked as an
editor
in Doubleday when he submitted some of his short rhymes to
The New Yorker
. The magazine's editor was so impressed by his work that he found them original. This was his first publication. He published his first collection of poems,
'

The Hard Lines

'
in \(1931\), which gained him popularity. He has also given shows on radios and televisions about poetry.
Ogden Nash is famous for his
comic verse
and
puns
. He talks about mundane things in life and gives them his comic touch. He brought a new trend in literary diversions. He broke
poetic laws
and wrote, blending the formal and informal.
Famous Works by Ogden Nash:
I'm a Stranger Here Myself
Good Intentions
Many Long Years Ago
Marriage Lines
Private Dining Room
Custard the Dragon and the Wicked Knight
Custard and Company
https://en.wikipedia.org/wiki/Ogden_Nash