PUMPA - THE SMART LEARNING APP
Take a 10 minutes test to understand your learning levels and get personalised training plan!
Download now on Google Play
Theory:
A
post office
is a
public facility and a retailer
that provides mail services, such as accepting
letters
and
parcels
, providing post office boxes, and selling postage stamps, packaging, and stationery. The
chief administrator
of a post office is called a
postmaster
.
Post offices may offer
additional services
, which vary by country. These include
providing and accepting government forms (such as passport applications),
and processing government services and fees (such as road tax, postal savings, or bank fees).
The
postal system in India
is called
India Post
. It is a statutory body in India, which is under the ownership of the
Department of Post
, Ministry of Communications of the Government of India. Generally called "the
Post Office
" in India, it is
the most widely distributed postal system
in the world. Also, with \(1,56,721\) post offices spread across the country (as of \(31.03.2020\)), it is
the largest postal network
in the world.
What is its primary function?
The
primary function
of Post Office is
collection, processing, transmission and delivery of mail
. All postal articles whose contents are in the nature of message can be
classified as mail
which includes Letters, Postcards, Inland Letter Cards, Packets, Ordinary, Registered, Insured, Value Payable articles and Speed Post.
What are the other functions of Post Office?
Apart from
delivering mail
, Post Office is involved in the following:
remitting money by

money orders

accepting deposits under

Small Savings Schemes

providing life insurance coverage under

Postal Life Insurance

(PLI) and

Rural Postal Life Insurance

(RPLI)
and providing

retail services

like bill collection, sale of forms, etc.
How to send a mail via India Post?
To send
an ordinary mail
within the country,
Place your letter inside an

envelop

.
Write "

From

" address on the top left of the envelop. This is the sender's address, i.e., your address. It is also recommended that you include your contact number.
Write "

To

" address under the "from address", i.e., on the bottom centre of the envelope. This is the address of the person you are sending the letter to. Again, it is recommended that you include the receiver's contact number.
Affix a

stamp

on the top right corner of your envelop. For an ordinary letter that weighs not more than \(20\) gms, you will have to affix a stamp that costs \(5\) rupees. For every additional 20gms or fraction thereof, you will have to place an additional stamp worth 5 rupees. You can get the stamps from the post office.
Finally, drop your letter into the

post box

situated in the post office or elsewhere.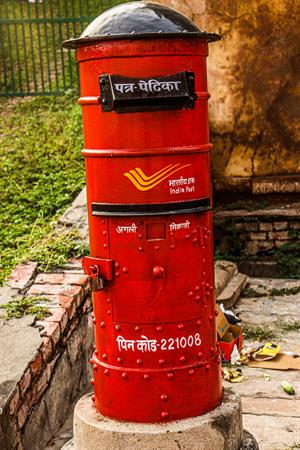 Post box
* The addresses and the stamps should go on
the face
(the front side) of the envelop.
*
PIN,
a 6 digit number, is critical while sending a mail. So, make sure the your addresses are complete with their respective PINs.