Antonyms
are words that have the
exact opposite meaning
of
another word
.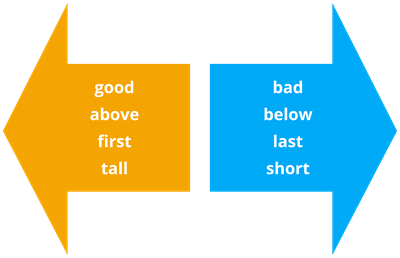 Antonyms

derive its name from the word "

anti

" meaning "opposite" and "

onym

" meaning "name".
Antonyms are important because it helps to
understand the exact meaning of the word given
. To understand the meaning of a word, we can also take a look at the
antonym or the opposite word
. It helps us to find the exact meaning from
diverse meanings
, from the
opposite point of view
.
It may be interesting to note that most dictionaries present the meaning, synonyms and antonyms of words for a clear understanding.
Let us take up the case of the word "
beautiful
".
The dictionary meaning is "

pleasing the senses or mind aesthetically

". Synonyms are "lovely, pretty, good-looking" and the

antonym

is "

ugly

".
The

antonym expresses

the

opposite meaning

and it is

precise

. It helps to understand the word "

beautiful

" from a

reverse perspective

also.
Antonyms from the Lesson "
The Black Aeroplane
":
| | | |
| --- | --- | --- |
| S.No | Words | Synonym |
| 1 | Excited | Bored |
| 2 | Strange | Normal |
| 3 | Companion | Enemy |
| 4 | Shining | Dull |
| 5 | Countryside | Urban |
| 6 | Huge | Small |
| 7 | Risk | Easy |
| 8 | Lost | Found |
| 9 | Frightening | Comforting |
| 10 | Arrive | Depart |
| 11 | Immediately | Delay |
| 12 | Dream | Aimless |