"What are they like? All silk, I bet," said Peggy.
"Yeah, all silk, all colours."
"Velvet, too?"
"Yeah, velvet too. A hundred dresses," Wanda would repeat stolidly. "All lined up in my closet."
Then they'd let her go. And then before she'd gone very far, they couldn't help bursting into shrieks and peals of laughter.
A hundred dresses! Obviously, the only dress Wanda had was the blue one she wore every day. So why did she say she had a hundred? What a story!
"How many shoes did you say you had?"
"Sixty pairs. All lined up in my closet."
Cries of exaggerated politeness greeted this. "All alike?"
"Oh, no. Every pair is different. All colours. All lined up."
Explanation:
After hearing about a hundred dresses lined up in the cupboard, Peggy asked Wanda whether all dresses were made of
silk
. Wanda replied that all were silk and they were of
different colours
. Peggy then asked Wanda whether
velvet clothes
were there in her
cupboard
. She even agreed that she had velvet clothes. Wanda then repeated that she had a hundred dresses lined up in her closet in an
unemotional way
.
Then the girls allowed Wanda to go. The girls would start laughing and shouting when Wanda moved from there. Even Wanda wouldn't have gone far, but the girls would make fun of her. It means that Wanda can hear them
laughing
and
commenting
. They couldn't control the things Wanda said, and they burst out in
laughter
. Then the girls made fun of her by telling them that she had only one faded blue dress she wore every day, and then how come she would have a hundred dresses in her
closet
. Once she left the place, the girls started making fun of her by discussing the story Wanda said.
The girls then asked her how many shoes she had. Immediately Wanda replied that she had
sixty pairs of shoes
and all that lined up in her closet. Then the girls pretend to be complete
politeness
and ask whether they all look the same. Wanda then said that each pair differs from one other. Each pair seemed different in colour, arranged in the order in the closet.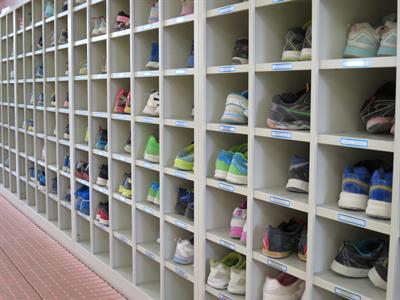 Sixty pairs of shoes in cupboard
Meanings of the difficult words:
| | | |
| --- | --- | --- |
| S.No | Words | Meanings |
| 1 | Closet | A tall cupboard or wardrobe with a door, used for storage |
| 2 | Bursting | To feel a strong emotion, or strong wish to do something |
| 3 | Shriek | Utter a high-pitched piercing sound or words, especially as an expression of terror, pain, or excitement |
National Council of Educational Research and Training (2007). The Hundred Dresses I - Eleanor Estes (pp. 63 - 72). Published at the Publication Division by the Secretary, National Council of Educational Research and Training, Sri Aurobindo Marg, New Delhi.