IGNITE ENGLISH PLUS
Learn English Language skills through our AI based learning portal with the support of our Academic Experts!
Learn more
Theory:
Name of the author
:
James Grover Thurber
Name of the lesson
: "
The Night the Ghost Got In"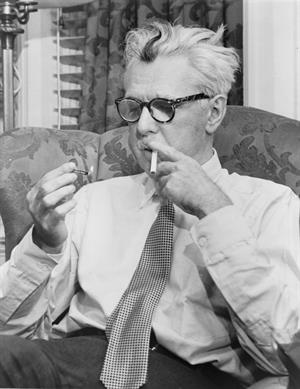 James Grover Thurber
**
James Grover Thurber
was an
American
cartoonist, essayist, humourist, journalist, playwright, and noted wit who lived from \(1894\) to \(1961\).
Thurber was born in Columbus, Ohio on December \(8\), \(1894\), to
Mary Agnes "Mame" Fisher
and
Charles Leander Thurber
. Thurber's father was a civil clerk while his mother was a bright humorist in her own right. Many of Thurber's stories and characters were influenced by her humour and theatrics. Thurber had
two brothers
: an older brother, William, and a younger brother, Robert.
One of the
critical moments
in Thurber's life happened during a childhood
game
of "
William Tell
" when one of his brothers accidentally shot him in his
left eye
with an arrow. He lost that eye, and as a result of the injury, he gradually
lost vision
in his remaining eye. Nevertheless, this never stopped him from writing or drawing.
Thurber was best known for his
cartoons
and
short stories
published mainly in
The New Yorker
, an American weekly magazine famous for its diversified literary themes and humour. He was one of the most popular humourists of his time, as 'he celebrated the comic frustrations and eccentricities of ordinary people'.
Some of his
works
include,
My Life and Hard Times (\(1933\))
The Last Flower (\(1939\))
Fables for Our Time (\(1940\))
My World and Welcome To It (\(1942\))
Many Moons (\(1943\))
The Thurber Carnival (\(1945\))
The White Deer (\(1945\))
The 13 Clocks (\(1950\))
The Thurber Album (\(1952\))
Further Fables for Our Time (\(1956\))
The Wonderful O (\(1957\))
The Years with Ross (\(1959\))
Thurber
died
on November \(2\), aged \(66\), due to complications from pneumonia.