PUMPA - THE SMART LEARNING APP
Take a 10 minutes test to understand your learning levels and get personalised training plan!
Download now on Google Play
Theory:
Long, long ago there lived at the foot of the mountain a poor farmer and his aged, widowed mother. They owned a bit of land which supplied them with food, and they were humble, peaceful, and happy.
Explanation:
The lesson "
The Aged Mother
," written by "
Matsuo Basho
," emphasises the bond between a mother and a son, as well as the wit of the elderly, in addition to understanding about despotic rulers. The plot is set in ancient
Japan
and revolves around a poor farmer and his
aged
,
widowed mother
. The
poor farmer
was caring for his mother, and they lived at the foot of the mountain.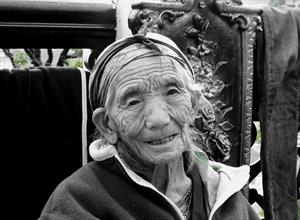 The Farmer's mother
They had a small plot of land on which the farmer worked and earned food. They were humble people. Furthermore, despite their
poverty
, they enjoyed a
happy
and
peaceful life
.
Meaning of difficult words:
| | | |
| --- | --- | --- |
| S. No. | Words | Meaning |
| 1. | Aged | Very old people |
| 2. | Widow | A woman who had lost her spouse |
| 3. | Humble | Not feeling proud |
State Council of Educational Research and Training (2018). English Standard-10. The Aged Mother - Matsuo Basho (pp. 120-122). Published by the Tamil Nadu Textbook and Educational Services Corporation.