Sarojini Naidu was born in the year \(1879\) in
Hyderabad
in a
Bengali family
. She was a poet, political
activist
and
propagator
of civil rights for women; she played an important role in the
freedom struggle
. She was fondly known as the "
Nightingale of India
" for her poetical prowess by
Mahatma Gandhiji
and "
Bharat Kokila
" by
Rabindranath Tagore
.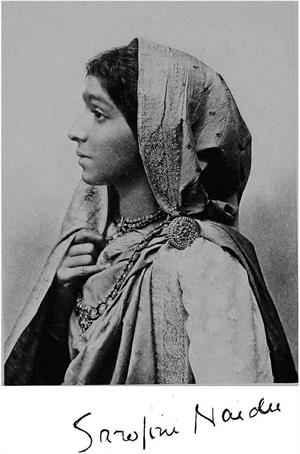 *Sarojini Naidu - the Nightingale of India.
She did her schooling in
University of Madras
. Later, she went to
Kings College in London
and finally finished her studies at the
Girton College
,
Cambridge
. She married
Govindarajulu Naidu
at the age of \(19\). They had five children.
Sarojini became a part of Indian National Congress movement for India's independence from British rule. She was appointed as the
President of the Indian National Congress
in \(1925\) and later became the
Governor of the United Provinces
in \(1947\), the first woman to hold the office of
Governor in the Dominion of India
.
Her

famous writing works

include:
The Golden Threshold - A collection of poems

In the Bazaars of Hyderabad

The Feather of the Dawn

The Gift of India

If you call me
Wandering singers are a band of folk
musicians
who wander from village to village to spread their music. Their music usually carry
strong messages
of love/activism/societal issues etc. They use music as a medium of their
expression
, as it reaches people of all ages and classes easily. They do not have any particular place as home -
the whole world is their home
. Naidu has written a poem about such wandering singers.
https://en.wikipedia.org/wiki/Sarojini_Naidu#/media/File:Sarojini_Naidu.jpg