Theory:
Wool-producing animals:
We can find sheep of various breeds in various parts of
India
.
However, sheep's
fleece
is not the only source of wool, though wool commonly available in the market is sheep wool. Yak wool is ordinary in
Tibet
and
Ladakh
. Mohair is received from angora goats discovered in hilly areas like
Jammu
and
Kashmir
.
Goat hair is also used to make wool. The
Kashmiri
goat's fur is soft. Pashmina shawls are perfect shawls made from them. Camels' body fur (hair) is also used to make wool. Wool is also produced by llamas and alpacas located in South America.
Some Indian sheep breeds:
| | | |
| --- | --- | --- |
| Name of breed | Quality of wool | State where found |
| | Good quality wool | Rajasthan, Punjab |
| | Brown fleece | Uttar Pradesh, Himachal Pradesh |
| | Carpet wool | Rajasthan, Haryana, Punjab |
| | For woollen shawls | Jammu and Kashmir |
| | Coarse wool | Gujarat |
| | For hosiery | Gujarat |
Activity 3.2
Collect photos of animals whose hair is used in the
production of wool
. Create a scrapbook with them. Try drawing them from this book's examples if you can't think of any. In your native language and other languages that are spoken in our country. Learn the phrases for sheep, goat, camel, and yak.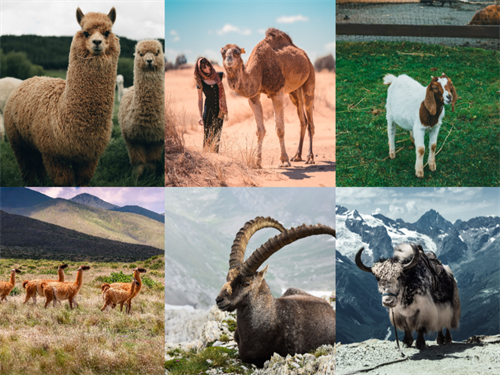 Various animal fibre
Activity 3.3
Obtain outline maps of
India
and the rest of the world. Discover and mark the locations on the map where you can find
wool-producing animals
. You can use different colours to indicate the location of different wool-producing animals.