Theory:
Chordata and their characteristics:
The animals of this phylum have

a rod-shaped

structure known as a

notochord

that provides skeletal support to the body. It is seen during the embryonic stages for most chordates and adult stages for some chordates.
They have a

nerve cord

that connects the brain.
The aquatic animals have a structure known as the

pharyngeal slit

that allows the exit of water.
These animals also have a

post-anal tail

which helps in balancing. They are made up of

muscles and skeletal structures

.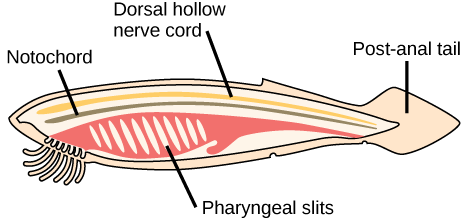 Characteristics of chordates
The
phylum chordata
is divided into subphylum's such as
Protochordata
(an informal group of invertebrates within chordates), V
ertebrata, Urochordate
and
Cephalochordata
.
These are an
informal group
of invertebrates which are marine mammals placed within the
phylum chordates
. These animals are
bilaterally
symmetrical and triploblastic. They are
coelomates and lack segmentation
. They have definite organs. In addition, they have
a notochord
. But, this structure is not present at all stages in their lives.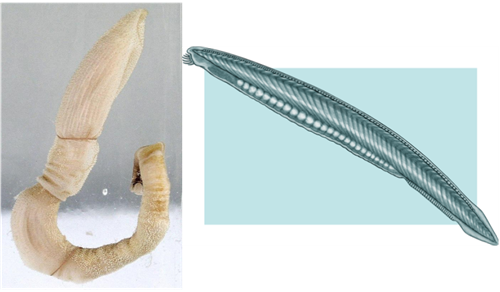 Protochordata
These are organisms that have an
organ-system level
of organisation. They have highly developed tissues and are
triploblastic
. These organisms are
bilaterally symmetrical
and show segmentation. They have a well-defined
coelom
.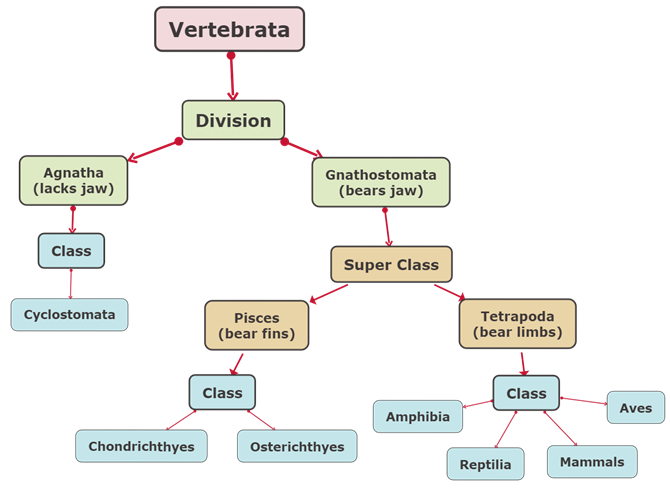 Classification of vertebrates
Chordate characteristics:
They have a vertebral column developed from the

notochord

.
They have a

dorsal nerve cord

.
They have

paired gill pouches

.
The internal skeleton muscles can attach at various points of the body.
These vertebrates are classified into
six
classes. They are as follows:
Cyclostomata
Pisces or fishes
Amphibia
Reptilia
Aves or birds
Mammalia
These animals can be divided into
cold-blooded
and
warm-blooded
animals.
Cold-blooded
: The animals which keep their
internal body temperature constant
are known as cold-blooded animals.
Warm-blooded animals
: The animals in which the body temperature varies with the
variation in the environment
are known as warm-blooded animals. The fishes, reptiles, insects, amphibians are cold-blooded animals, and the mammals and birds are warm-blooded animals.
https://upload.wikimedia.org/wikipedia/commons/thumb/9/90/Eichelwurm_%28cropped%29.jpg/512px-Eichelwurm_%28cropped%29.jpg
https://commons.wikimedia.org/wiki/File:Amphioxus.png
https://upload.wikimedia.org/wikipedia/commons/f/f0/Chordate_features.png