Theory:
The plants whose reproductive organs are very inconspicuous, and they are called '
cryptogams
', or '
those with hidden reproductive organs
'. They include,
Thallophyte
Bryophyta
Pteridophyta
Thallophyta
These are group of plants that
do not have a well-differentiated body design
. These plants are commonly known as
algae
and are
mostly aquatic
. They include photosynthetic
algae and fungi
.
Spirogyra, Ulothrix, Volvox, Cladophora, Ulva and Chara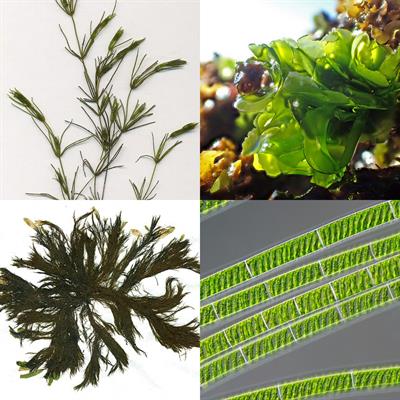 Clockwise from top left: Chara, Ulva, Chladophora, Spirogyra
These are known as the
amphibians of the plant kingdom
as they are found in
both water and on land
. They are first terrestrial plants. In these plants their body is differentiated to form
stem and leaf-like structures
. But they lack specialised tissues for the
conduction of water and other substances
.
Mossses such as Funaria, Riccia, Marchantia and liverworts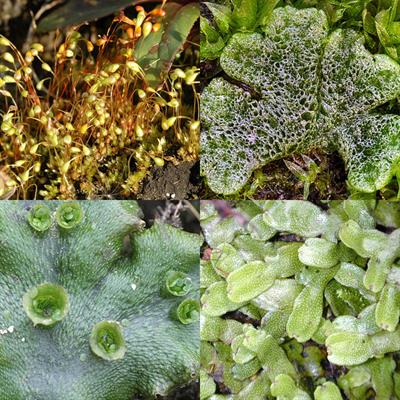 Clockwise from top: Funaria, Riccia, Marchantia, Liverworts
This is a phylum that includes plants whose body is
differentiated
into
roots, stem and leaves
. They also have specialised tissue for the conduction of water and other substances from one part of the plant body to another. Hence, they are known as
vascular cryptogams
. They are found in terrestrial or dry areas.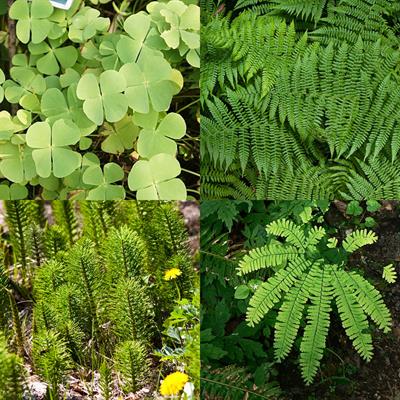 Clockwise from top: Marsilea, Ferns, Horsetails, Adiantum
https://upload.wikimedia.org/wikipedia/commons/thumb/1/18/Cladophora_rupestris_Helgoland.jpg/512px-Cladophora_rupestris_Helgoland.jpg
https://www.flickr.com/photos/johnwturnbull/28308878684
https://upload.wikimedia.org/wikipedia/commons/thumb/c/cf/CharaFragilis.jpg/512px-CharaFragilis.jpg
https://upload.wikimedia.org/wikipedia/commons/thumb/8/85/The_freshwater_alga_Spirogyra.jpg/512px-The_freshwater_alga_Spirogyra.jpg
https://upload.wikimedia.org/wikipedia/commons/thumb/6/6d/Marchantia_polymorpha_%28a%2C_144712-474823%29_9865.jpg/512px-Marchantia_polymorpha_%28a%2C_144712-474823%29_9865.jpg
https://upload.wikimedia.org/wikipedia/commons/4/41/Liverwort.jpg
https://upload.wikimedia.org/wikipedia/commons/0/0b/Funaria.hygrometrica.jpg
https://upload.wikimedia.org/wikipedia/commons/thumb/0/0f/Riccia_cavernosa.jpg/512px-Riccia_cavernosa.jpg
https://upload.wikimedia.org/wikipedia/commons/thumb/6/6e/Marsilea_minuta_9090.jpg/512px-Marsilea_minuta_9090.jpg
https://upload.wikimedia.org/wikipedia/commons/thumb/e/ee/Sa-fern.jpg/512px-Sa-fern.jpg
https://www.flickr.com/photos/scarygami/5649905401
https://upload.wikimedia.org/wikipedia/commons/thumb/1/12/Adiantum_pedatum_09905.JPG/512px-Adiantum_pedatum_09905.JPG