Theory:
An introduction to diversity in living organisms:
The
earth consists of a multitude of life forms
that differ from each other to a lesser or greater extent. No two individuals are of the same height, weight and facial features. But when we compare ourselves with another individual, we have a lot in common rather than with a monkey.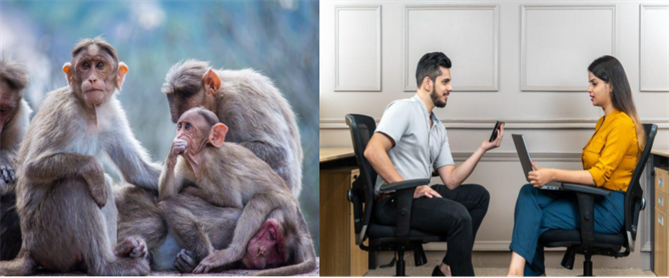 Monkey and the humans
Similarly, when we compare a monkey with a cow, monkey has a lot more familiar with us than with a cow.
The
earth has a wide range of life forms
. It comprises microscopic bacteria of a few micrometres in size but, the
blue whale
and
redwood trees of California
of approximate sizes of
\(30\)

metres

and \(100\)

metres
respectively.
Based on life-span, the

pine trees live for thousands of years

while

insects like mosquitoes die within a few days

.
When we talk about the

colour

of the life-forms range from

colourless or transparent worms

to

brightly coloured birds and flowers

.

Bird and flowers
These variations in the living organisms have occurred over a
million years ago
. Hence, to understand about all the various living organisms, it is mandatory to know about the similarities among the
microorganisms
.
This henceforth leads to the classification of these diverse organisms in which main broad groups of organisms are further divided into smaller sub-groups based on the less essential characteristics.
https://pixabay.com/photos/spring-fantasy-ave-flowers-5098479/
https://pixabay.com/photos/flower-field-bloom-colorful-garden-1559464/
https://pixahive.com/photo/people-using-gadgets/
https://pixabay.com/pl/photos/ma%c5%82pa-prymas-zwierz%c4%99-fauna-6952641/