Theory:
In the previous section, we have learned the basics of
files and folders.
In this section, we will see "
How can we create Files?
".
For example, if the computer operates on the
Windows OS
, we can collect our notes in the '
Notepad
' application and draw pictures in the '
Paint
' application.
| | |
| --- | --- |
| Notepad application | Paint application |
We can type our
notes
in '
Notepad
' and save the created files in a folder as per their name.
Likewise, we can
draw and edit pictures
in the'
Paint
' app. Let us see how to use these images to create
image galleries, animations, and graphics
.
Pictures and audio-visuals give us more understanding than teaching and writing on the blackboard.
Is it right?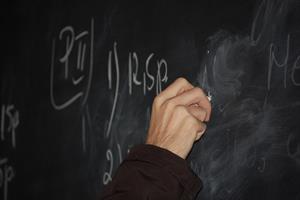 Teacher writing on a blackboard
Instead of saying a story like 'once upon a time, there was a king,'
we can understand the concept easily by seeing the video
, and also it registers firmly in the minds of the students. The device that helps explain the concepts easily through pictures is called the
'Visual Communication Device'
.
For example, photos, audio-visuals, drawings, animations all can be created easily with the help of the computer.
Cinema
is an excellent example of a 'Visual Communication' device.