Theory:
Electron generator:
When a discharge tube containing
air
or any
gas
at ambient pressure is exposed to a high electric voltage of \(10,000\) volts or more, no electricity flows through the air. When a high voltage of \(10,000\) volts is applied to the electrodes of a discharge tube containing air or any gas at an external pressure of about \(0.001\) mm of mercury, a
greenish
glow is observed on the discharge tube walls behind the anode.

Electron generator
Note: Air is a good conductor of electricity.
This observation demonstrates some

invisible rays

coming from the

cathode

.
Hence, these rays are referred to as

cathode rays

.
They were later given the name

electrons.
Electron emission
Electrons:
Electrons are
subatomic
particles that revolve around the
nucleus
of an atom. They usually are
negatively
charged and much smaller than the nucleus of an atom.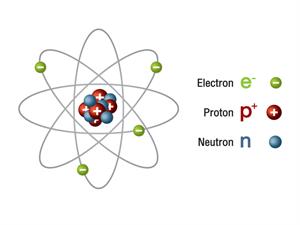 Structure of atom