Theory:
Operators in LibreOffice Calc:
An operator is a
character or set of characters
that determine the action that is to be performed or considered.
Relational Operators:
Relational operators are used to
comparing two values
. They form relational expressions. These operators always give a single value as a result:
True or False.
| | | |
| --- | --- | --- |
| Operator | Function | Usage |
| | Equal to | \(B2 = B3\) |
| \(<>\) | Inequality (Not equal to) | \(C2<>C3\) |
| \(>\) | Greater than | \(D2>D3\) |
| \(<\) | Less than | \(E2<E3\) |
| \(>=\) | Greater than or Equal to | \(F2>=F3\) |
| \(<=\) | Less than or Equal to | \(G2<=G3\) |
Equal to:

Not equal to:

Greater than:

Less than:

Greater than or Equal to: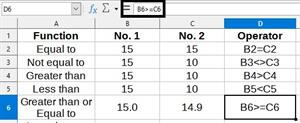 Less than or Equal to: