According to
NASA
, there are many uses of
ISS
which benefits us. Some of them are explained below.
1. Supporting water-purification efforts:
Water-scarce places can benefit from improved water filtration and purification systems that are developed for the
ISS
. A village in Iraq was saved from being abandoned due to clean water scarcity with the help of
ISS
's
Water Recovery System
(
WRS
) and
Oxygen Generating System
(
OGS
).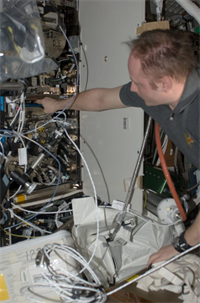 Water Recovery System in ISS
2. Eye-tracking technology:
The
Eye Tracking Device
, originally designed for a microgravity experiment, has proven to be used in numerous laser surgeries. Additionally, eye-tracking technology helps impaired people who have limited mobility and communication. For example, a child with significant physical disabilities can use their
eye movements to complete routine tasks
and live independently.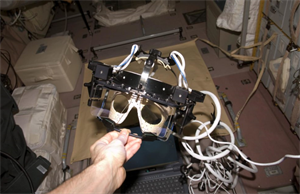 Eye-tracking device
3. Robotic arms and surgeries:
Robotic arms created for research on the International Space Station are
assisting surgeons
in removing inoperable tumours (e.g., brain tumours) and taking precise biopsy samples.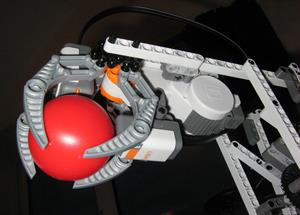 A robotic arm
The inventors of the robots claim that the robotic arms can take
biopsies
with
consistency
and
exceptional precision
.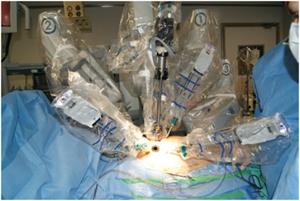 Robotic arm performing surgery
Apart from the applications listed above, there are numerous other ways in which the ISS's research is beneficial. Some of them are:
Improved vaccines
Detection of breast cancer and its treatment
Ultrasound machines for rural areas
https://upload.wikimedia.org/wikipedia/commons/d/d6/Looming_robot_arm.jpg
https://upload.wikimedia.org/wikipedia/commons/4/47/External-aspect-of-the-operative-field-DaVinci-robotic-system-docked-to-the-patient.jpg