PUMPA - THE SMART LEARNING APP
Take a 10 minutes test to understand your learning levels and get personalised training plan!
Download now on Google Play
Total cultivable area in Asia: \(18\)

%

Chief occupation of people:

Agriculture

Rich alluvial soil is found in river valleys in the

South

,

South East

and

East Asia

.
In the riverine plains of Asia, agriculture is intensively practised.
However, some areas are not suitable for agricultural practices.
In Asia,
India
has the largest area of
arable land
which can be used for cultivation.
Most of the west Asian countries cultivate their crops where the

groundwater level

is nearer to the surface.

Iraq

practices agricultural activities based on the availability of rainfall and supply of water from

Euphrates

and

Tigris rivers

.
Staple food crops in Asia:

Rice

and

Wheat.
The leading producers of rice in the world:

China

and

India

Other important rice-producing countries in Asia:

Myanmar

,

Japan

,

Bangladesh

and

Thailand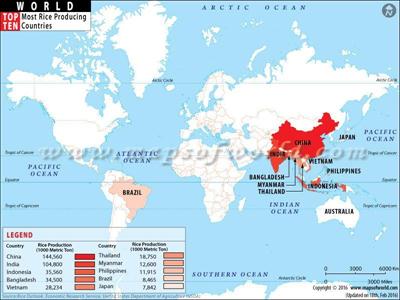 Monsoon Asia

is suitable for rice cultivation because of the abundant rainfall, fertile plains and availability of labour.
Rice bowl of South-East Asia:

Thailand
Banaue rice terrace:
Built \(2000\) year ago by the

Ifugaos

people in the

Philippines

Located approximately about \(1524\)\(m\) above sea level.