The

Royal Astronomical Observatory

is situated at

Greenwich near London in England

.
At the

International Meridian Conference

held in \(1884\)

in

Washington DC

in the U.S.A, all the nations unanimously

agreed on choosing the Greenwich Meridian as the international standard meridian \((0°).\)

This \(0°\) line of longitude is called the

Prime Meridian.

It is also called as the

Greenwich Meridian

as it passes through Greenwich.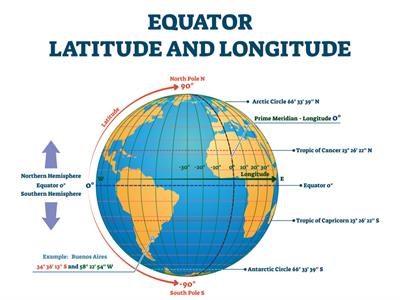 The \(180°\)

line of longitude

has been established as the

International Date Line.

It is drawn on the

Pacific Ocean

between

Alaska and Russia through Bering Strait

.
On crossing, this line;
From the
West to East
- You

lose
a day
From the
East to West
- You

Gain
a day
Based on this, the date is fixed for different countries or regions of the world.
This is not a straight line.
Incase, if the line is drawn straight, two places in the same country will have different dates.
In order to avoid this confusion, the International Date Line is found

zigzag

in few places.