Atmosphere:
The

envelope of air

that surrounds the Earth.
Different types of gases make up the atmosphere.
The major gases are

Nitrogen (78%) and Oxygen (21%).

The other gases like

Carbon dioxide, Hydrogen, Helium, Argon, and Ozone

are present in meager amounts.
The range of the atmosphere extends from

less than 1 m below the Earth's surface to more than 10,000 km above the planet's surface

.
The atmosphere's upper layer

protects

the living organisms in the biosphere from the sun's

ultraviolet radiation

.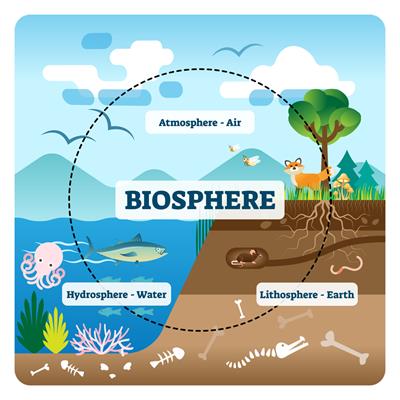 Biosphere
Narrow coexistence of the
lithosphere, the hydrosphere and the atmosphere
, where life exists is known as
Biosphere
.
It consists of distinct zones.
Each zone has its own climate, plant and animal life.
These zones are known as

ecosystems

.
| | |
| --- | --- |
| Lithosphere | Land |
| Hydrosphere | Water |
| Atmosphere | Air |
| Biosphere | Coexistence of above three |