Theory:
Popular Dances of India:
In ancient times, dance was considered as a way to
celebrate
,
worship
and also as a gesture of thanksgiving and joy. Dances of India reflect its
cultural richness
.
Folk dances of India:
State

Popular dance

Tamil Nadu

Karagattam, Oyillattam, Kummi, Therukoothu,
Bommalattam, Puliattam, Kolattam, Thappattam

Kerala

Theyyam and Mohiniattam

Punjab

Bhangra

Gujarat

Garba and Dandia

Rajasthan

Kalbelia and Ghoomer

Uttar Pradesh

Raaslila and Chholiya

Assam

Bihu

Jammu and Kashmir

Dumhal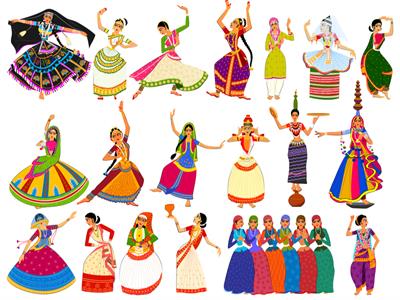 Dances - India
Unity in Diversity:

The spirit of patriotism unites India despite all these diversities. Symbols such as the
National Flag
and
National Anthem
remind us of our great nation. Celebration of landmark events such as Independence Day, Republic Day and Gandhi Jayanthi every year brings us together and keeps the spirit of one nation alive within us.
India has evolved as a single nation through
common beliefs, customs and cultural practices
. Our spirit of unity is seen in our freedom struggle and the drafting of our
Constitution of India
.
India is known for
'unity in diversity'
. This phrase was coined by
Jawaharlal Nehru
, the first Prime Minister of independent India, in his book
Discovery of India
.
V.A. Smith
called India as an
'Ethnological museum'
, as a great variety of racial types exist.