Theory:
The Palas followed the Mahayana school of Buddhism, so they built many Buddhist temples. The universities of
Nalanda
and
Vikramashila
were built by them. Palas established Buddhism in Tibet. Buddhist monk
Atisha
reformed Tibetan Buddhism, and he was the president of the Vikramashila monastery.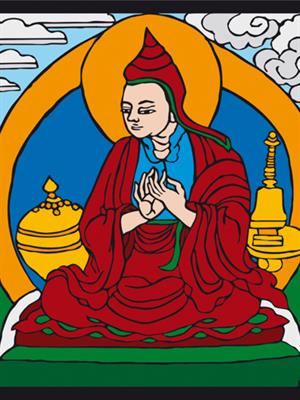 Portrait of the Indian Monk Atisha
A unique school of art emerged during the Pala regime, called Pala art or Eastern Indian art. Pala style of art flourished in Bihar and West Bengal. Pala's art was portrayed by
Bronze sculptures
and
Palm-leaf paintings
, commemorating the Buddha and other deities. Pala bronze sculptures spread the name Indian culture in Southeast Asian nations.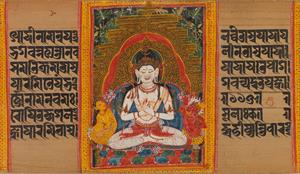 Palm Leaf Painting of Palas
Folio: Bodhisattva Maitreya, from Ashtasahasrika Prajnaparamita Manuscript
Raksha Bandhan
festival, popularly known as
Rakhi
, has its origin from Rajputs. The Rakhi thread is considered as sacred as it keeps a promise which brother makes to her sister that he will protect her throughout her life. At this event, sisters pray for the good health and well being of their brothers.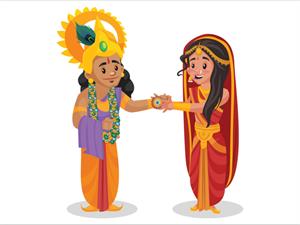 Draupadi is tying Rakhi to Lord Krishna
Rabindranath Tagore
led a protest against the British's decision to divide Bengal on religious grounds (partition of Bengal, 1905) and asked Hindu and Muslim women to tie Rakhi on other men's wrist to manifest harmony and solidarity among each other.
Image taken from,
1. https://commons.wikimedia.org/wiki/File:MET_DP238212.jpg