PUMPA - THE SMART LEARNING APP
Take a 10 minutes test to understand your learning levels and get personalised training plan!
Download now on Google Play
Theory:
Loss of Indian Citizenship:
Part II of the Constitution of India (
Article 5-11
) prescribes
three
ways of losing citizenship.
Renunciation
: (is a voluntary act) when a person after acquiring the citizenship of
another country
, gives up his/her Indian citizenship.
Termination
: (takes place by operation of law) When an Indian citizen
voluntarily acquires
the citizenship of another country, he/she
automatically
ceases to be an Indian citizen.
Deprivation
: (is a compulsory termination) The citizenship is deprived based on the
order
of the Government of India in cases involving acquisition of Indian citizenship by
fraud
,
false representation
or
being disloyal to the Constitution
.
Nationality and citizenship
Nationality
is the status of belonging to a particular nation by
origin, birth
; basically it is an ethnic and racial concept. The nationality of a person
cannot be changed.
Citizenship
is granted to an individual by the country's government when he/she complies with the legal formalities. Citizenship
can be changed
.
Overseas Citizenship of India:
Non - Resident Indian

An Indian citizen who is residing
outside India
and holds an Indian passport.
Person of Indian Origin
A person whose any ancestors was an Indian nationals and who is presently holding another country's citizenship.(other than Pakistan, Bangladesh, Sri Lanka, Bhutan, Afghanistan. China and Nepal). The PIO scheme was cancelled w.e.f. \(09-01-2015\)
Overseas Citizen of India Card Holder

It is an
immigration status
permitting a foreign citizen of Indian origin to live and work in the Republic of India indefinitely. (Except the citizen of Pakistan and Bangladesh). There are
no voting rights
for an OCI cardholder.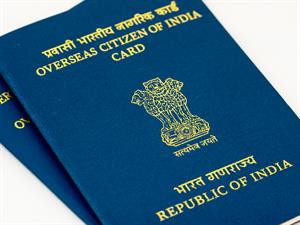 OCI card
Overseas Indians' Day

Pravasi Bharatiya Divas (PBD), Sponsored by the
Ministry of External Affairs
of Government of India, is celebrated once in every two years to "mark the contributions of Overseas Indian Community in the development of India". The day commemorates the arrival of Mahatma Gandhi in India from South Africa.
Qualities of a good citizen
■ Loyalty to the Constitution
■ Obeys laws
■ Contributes to society and community and performs a civic duty
■ Respects diversity
Pradeep Thomas Thundiyil / Shutterstock.com