Theory:
The Medieval Trade:

The Medieval period witnessed the growth of trade and commerce, which enhanced the economic status of people. The main commodity of export was the textiles from Indian territories.
The fine textiles are woven from markets of
Bengal
in the east and
Gujarat
in the West, and some parts in the southern part of India. Printed clothes attracted a huge market in European countries mostly exported from India to foreign countries.

Colours are produced from various natural sources which are used to make dyes. Vegetable colours are used to make colour fabrics that are sold in local markets.

Post the arrival of Europeans, Indigo was made to cultivate in Indian lands, which were later used for making Dyes.
Commercial Trade:

During the initial days of trade, the exchange of goods was highly confined to the regional markets among the rural areas. Commercialised goods were imported only in large cities, which were inaccessible to the people of rural areas.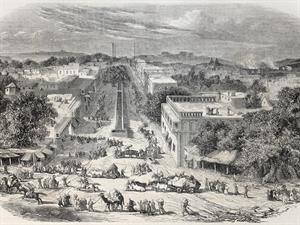 Ancient Market in India
Inland trade was facilitated by small waterways which connected important trade centres. People of rural areas used boats and logs to access the markets in large towns.
Development of Maritime trade:

The beginning of the Maritime trade substantially enhanced the growth of the Medieval economy. The rulers of Medieval kingdoms encouraged trade across seas which gave them new markets for their goods.
The Indian kingdoms exported various commodities like Spices, Semi-Precious stones, high-quality diamonds, and medicinal herbs. These are revered highly in the markets of West Asia and Europe.
The ports located on the Western Coast of India facilitated the movement of bulk goods to distant lands of the West.
Surat
,
Cochin
, and other ports favoured the trade.

The Phase of Urbanisation:

People from various countries visited the Indian lands during the Medieval period who settled in various cities near markets.These markets are located in the centre of junctions which paved the way for the development of cities.

The Southern states witnessed the development of cities under the influence of temples which enabled the growth of new cities.