Name of the poet
:
William Butler Yeats
Name of the poem
:
For Anne Gregory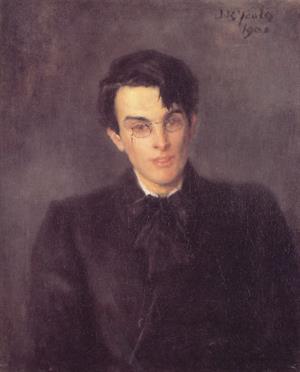 William Butler Yeats- a portrait by his father**
William Butler Yeats
was an
Irish
poet, dramatist, and prose writer and one of the greatest English-language poets of the \(20\)th century.
He was born on
June
\(13\), \(1865\), in Sandymount, Ireland, to
John Butler Yeats
and
Susan Mary Pollexfen
. His family was highly
artistic
: his father and a brother (Jack Butler Yeats) were esteemed painters, while two of his sisters, Elizabeth and Susan Mary, were involved in the Arts and Crafts movement.
When Yeats was two years old, his family relocated to
London
, although he spent much of his childhood and school holidays with his grandparents in
Sligo
. With its landscapes, mythology, and supernatural legends, this country would influence Yeats' work and serve as the
backdrop
for many of his poems.
He began writing his
first works
when he was
seventeen
. In \(1885\), Yeat's poetry was published for the first time. The poems were "Song of the Fairies" & "Voices", and they were published in the Dublin University Review. Critics claim that his early writings were starkly
conventional
, having drawn inspirations from the works of great poets such as Edmund Spenser. Moreover, his themes echoed the works of great romantic poets such as Percy Bysshe Shelley and John Keats. However, he soon turned to
Irish mythology
and
folklore
. In addition, his writings became
more physical
and
realistic
. Also, the works of
William Blake
are often cited as an
inspiration
for Yeat's later works.
Most of Yeats's poems uses
symbols
from ordinary life and familiar traditions. However, his poems are as
diverse
as poetry could be. As you move from one work to another, you might be surprised to find that his works are
transitional
. One might discover traces of
romanticism
,
transcendentalism
,
realism
,
national identity
,
myth
,
spiritualism
, and
political ideologies
in his works. This shows how his themes and subjects had transformed through the course of his life.
Also, he can be
experimental
when it comes to the method of writing. For instance, his interest in
spiritualism
and the
occult
had led him to explore the field of "
automatic writing
"- a process of writing where the writer writes while in a spiritual trance as if guided by an external force.
Though his subjects varied, Yeats had
strong beliefs
when it came to the
form
of poetry. He firmly believed that a poet should place considerable emphasis on
rhythm
and
meter
and that a poem should have an appealing and appropriate form and style. Hence, he wrote poetry that
rhymed
, and he disregarded the poets who wrote in free verse.
Yates received the
Nobel Prize for Literature
in \(1923\). He died at the
Hôtel Idéal Séjour
, in Menton,
France
, on \(28\) January \(1939\), aged \(73\).
Some of his
important works
are:
The Wanderings of Oisin and Other Poems (Yeat's first collection of poems; 1889)
The Lake Isle of Innisfree (a poem; 1890)
The Countess Kathleen and Various Legends and Lyrics (A collection of poems and a play; 1892)
Cathleen Ní Houlihan (a play; 1902)
Adam's Curse (a poem; 1903)
The Wild Swans at Coole (a collection of poems; 1917)
Easter 1916 (a poem; 1916)
The Second Coming (a poem; 1920)
Michael Robartes and the Dancer (a collection of poems; 1921)
A Vision (non-fiction; 1925)
The Tower (a collection of poems; 1928)
The Winding Stair (a collection of poems; 1929)
Words for Music Perhaps and Other Poems (a collection of poems; 1932)
The Ten Principal Upanishads (Translation; 1938)
The name '
Yates
' is pronounced as '
Yates
'.