Bholi looked up as if to ask, ''Really?'
"Yes, yes, it will be very easy. You just come to school everyday. Will you come?"
Bholi nodded.
"No, say it aloud."
"Ye-Ye-Yes." And Bholi herself was astonished that she had been able to say it.
"Didn't I tell you? Now take this book."
The book was full of nice pictures and the pictures were in colour — dog, cat, goat, horse, parrot, tiger and a cow just like Lakshmi. And with every picture was a word in big black letters.
"In one month you will be able to read this book. Then I will give you a bigger book, then a still bigger one. In time you will be more learned than anyone else in the village. Then no one will ever be able to laugh at you. People will listen to you with respect and you will be able to speak without the slightest stammer. Understand? Now go home, and come back early tomorrow morning."
Bholi felt as if suddenly all the bells in the village temple were ringing and the trees in front of the school-house had blossomed into big red flowers. Her heart was throbbing with a new hope and a new life.
Thus the years passed.
The village became a small town. The little primary school became a high school. There were now a cinema under a tin shed and a cotton ginning mill. The mail train began to stop at their railway station.
Explanation:
After hearing her teacher's encouraging talk, Bholi looked up at her and asked whether she could talk like everyone. The teacher then replied that it would be an easy task. In addition, she says that Bholi should come to school every day.
Then the teacher asked her whether she would come every day. After hearing that, Bholi
nodded
her head. The teacher then asked her to tell it
louder
. She started
stammering
and ended up giving a
clear response
. Finally, Bholi realised and was surprised that she too could say it without stammering. The teacher then asked whether she had told her something. Here she tried to talk about a book. She asked her to take the book. The book which Bholi took was full of
nice pictures
. All the pictures were in different colours. The book included a
dog
,
cat
,
goat
,
horse
,
parrot
,
tiger
and a
cow
. The cow in the book had a resemblance to her cow Lakshmi. The pictures in the book were represented with big black words.
The teacher then says that Bholi can read the whole book monthly. After telling her that, she said she would give her another big one once she finished this book. After completing that book again, she would give her a
bigger one
. Here one can find that the teacher was motivating her to read books. Depending on her level, the teacher increased the difficulty level to make her comfortable reading it. The teacher then tells her why she asked her to read the books. She told her that after the completion of reading books, Bholi would become the more
knowledgeable girl in the village
. She would get to more than any other girls in the village.
The teacher then says no one will laugh at her once she knows everything. In addition, she says that once she learned many things, people would give her
respect
, and she would speak them without stammering. The teacher had made all the plans to build
courage
in her and make her shine in front of
society
. After telling everything, the teacher asked Bholi whether she understood everything. After telling her that, she asked her to go home and come to school the next morning.
While hearing her teacher's motivational words, Bholi felt
happy
. The narrator then describes the situation of Bholi. She felt like all the bells in the village temple were ringing. The trees in front of the
school-house
had
blossomed
into big red flowers. This statement implies that her prayers to God were answered, and her life flourished again because of her class teacher. Later, her heart yearns for a new life, and she gets new hope.
Later years passed. The village had turned into a small town. It shows the
development of the town
. Her primary school then became a
high school
. There was a cinema under a
tin shed
and a
cotton
grinning

mill
opened in her town. Even the
mail train
started to stop at the
village railway station
.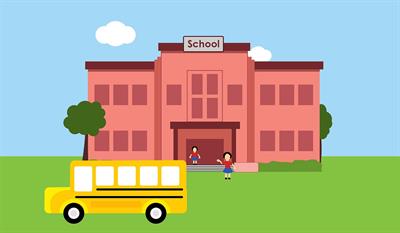 Bholi's high school
Meanings of the difficult words:
| | | |
| --- | --- | --- |
| S.No | Words | Meanings |
| 1 | Astonish | Very surprised |
| 2 | Throb | A strong, regular beat |
National Council of Educational Research and Training (2007). Bholi - K.A. Abbas (pp. 54-62). Published at the Publication Division by the Secretary, National Council of Educational Research and Training, Sri Aurobindo Marg, New Delhi.