Johnsy smiled weakly and closed her eyes. After every hour or so she would look out of the window and find the leaf still there. It seemed to be clinging to the creeper.

In the evening, there was another storm but the leaf did not fall. Johnsy lay for a long time looking at the leaf. Then she called out to Sue.

"I have been a bad girl. You have looked after me so lovingly and I have not cooperated with you. I have been depressed and gloomy. The last leaf has shown me how wicked I have been. I have realised that it is a sin to want to die."

Sue hugged Johnsy. Then she gave her lots of hot soup and a mirror. Johnsy combed her hair and smiled brightly.

In the afternoon the doctor came. After examining his patient he told Sue, "Johnsy now has the will to live. I am confident she'll recover soon. Now I must go downstairs and see Behrman. He is also suffering from pneumonia. But I am afraid, there is no hope for him."
Explanation:
Then Johnsy smiled and closed her eyes. After every hour, she would look out of the window. The reason for looking out was that she wanted to know whether the leaf was there or not. The leaf looked like it was
clinging
to the creeper. It means that the leaf was holding the creeper.
There was another heavy storm that
evening
, but the leaf didn't fall from the
ivy creeper
. Johnsy kept looking at the leaf for a long time. Then she called her friend Sue. When Sue came there, Johnsy said that she had behaved like a
bad girl
. It means that she never paid
attention
to Sue. In addition, Johnsy said that Sue looked after her very affectionately, and in return, Johnsy did not cooperate with her and remained
sad and dull
. Johnsy said the last leaf had made her realise how foolish she was. Then she said that her desire to die was a sin.
After hearing that, Sue was glad to see the changes in Johnsy. She hugged her friend. Then Sue gave her a lot of hot soup to help her recover from her illness. Later she gave a mirror to her. On seeing the mirror, Johnsy combed her hair and smiled brightly. When Johnsy realised her stupidity, she started becoming more active. So from this paragraph, one can understand that negativity spoils one's life. Having
faith
and
hope
among oneself can make one overcome every
challenging
situation.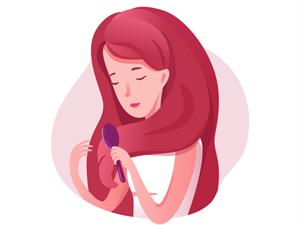 Johnsy combing her hair
The doctor visited Johnsy in the afternoon. After checking Johnsy's health condition, the doctor said that the desire or hope to live was back in Johnsy. He was sure that she would recover from her illness. Then he said to Sue that he had to go
downstairs
to see Behrman because he was suffering from
pneumonia
. Also, he said that he had no hope in the old man that he would recover from his illness.
Meanings of the difficult words:
| | | |
| --- | --- | --- |
| S.No | Words | Meanings |
| 1 | Cling | To stick onto or hold something or someone tightly |
| 2 | Depress | Unhappy and without hope |
| 3 | Gloomy | Not expecting or believing anything good in a situation |
| 4 | Comb | A strip of plastic, wood, or metal with a row of long, narrow parts along one side, which is used to arrange or hold the hair |
| 5 | Examine | To look at or consider a person or thing carefully and in detail to discover something about them |
| 6 | Recover | Return to a normal state of health, mind, or strength |
| 7 | Afraid | Feeling fear or anxiety; frightened |
| 8 | Patient | A person who is receiving medical care, esp. in a hospital, or who is cared for by a particular doctor or dentist when necessary |
National Council of Educational Research and Training (2006). Moments. The Last Leaf– O Henry (pp. 44-48). Published at the Publication Division by the Secretary, National Council of Educational Research and Training, Sri Aurobindo Marg, New Delhi.