IGNITE ENGLISH PLUS
Learn English Language skills through our AI based learning portal with the support of our Academic Experts!
Learn more
Theory:
The summer of life she's ready to see in spring.
She says, "Spring will come again, my dear.
Let me care for the ones who're near."
She's The Woman – she has no fear!
Explanation:
In the
second stanza
, the speaker describes life through the
metaphors
of
seasons
. The speaker explains how the woman is ready to see
spring
in the
summer
of her life. Here, summer is seen as a period of
growth
.
Every season is associated with a set of
meanings
. Seasons are often used as metaphors in several literary works.
Yoko Ono
, a Japanese-American artist, describes the four major seasons in the following lines:
"Spring passes and one remembers one's innocence.
Summer passes and one remembers one's exuberance.
Autumn passes and one remembers one's reverence.
Winter passes and one remembers one's perseverance."
In the poem "I am Every Woman", the speaker uses the season of summer to refer to the
good and
prosperous period
in one's life. So, while summer is a period of achievement, spring denotes a period when people begin to
evolve
. The speaker says that the woman is so capable of achieving greatness at such a young age. Also, she can be more
mature
and
forward-thinking
for her age.
In the second line of the stanza, the speaker uses the season of
spring
in a different context. While the "
spring
" in the first line talks about a period in one's life, the "spring" in the second line talks about
positive ideas
such as
hope
and
good fortune
. She is likelier to give up on
opportunities
to take care of her family and loved ones, believing that "
spring
" (as in good fortune and opportunities) will knock on her door again. A woman is an emotional being, and hence her priority is often the well being of her dear and near ones.
Though she is bound by love, she is never a coward. She stands tall and
fearless
.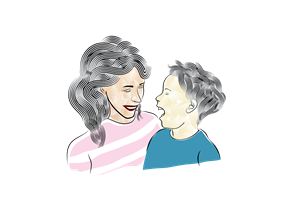 She is caring towards her dear ones

Meanings of difficult words:
| | | |
| --- | --- | --- |
| S.No | Words | Meanings |
| | Summer | The season of the year between spring and autumn when the weather is warmest; summer as a metaphor symbolises freedom and growth, and may refer to the prime of a person's life |
| 2 | Spring | The season after winter and before summer when the weather becomes warmer, leaves and plants start to grow again and flowers appear; spring as a metaphor represents new beginnings, hope, and such positive ideas; it may also represent tender age/youth in a person's life |
State Council of Educational Research and Training (2019). English Standard-10. I am Every Woman- Rakhi Nariani Shirke (pp. 84). Published by the Tamil Nadu Textbook and Educational Services Corporation.