The old lady bent down and took the teaspoon and held it out! Tom winced and dropped his eyes. Aunt Polly raised him by the usual handle – his ear – and cracked his head soundly with her thimble.

'Now, sir, what did you want to treat that poor dumb beast so, for?'

'I done it out of pity for him - because he hadn't any aunt.'

'Hadn't any aunt! – you numbskull. What has that got to do that with it?'

'Heaps. Because if he'd had one she'd burnt him out herself! She'd a roasted bowel out of him 'thout any more feeling than if he was a human!'

Aunt Polly felt a sudden painful regret. This was putting the thing in a new light; what was cruelty to a cat might be cruelty to a boy too. She began to soften; she felt sorry. Her eyes watered a little, and she put her hand on Tom's head and said gently:

'I was meaning for the best, Tom. And, Tom, it did do you good.'

Tom looked up in her face with just a recognisable twinkle peeping through his gravity.

'I know you was meaning for the best, aunty, and so was I with Peter. It done him good, too. I never see him around so since'

'Oh, go 'long with you, Tom, before you annoy me again. And you try and see if you can't be a good boy, for once, and you needn't take any more medicine.
Explanation:
Aunt Polly bent down, took the spoon and showed it to Tom. Tom made a
shrinking movement
and
bent his head down
then aunt Polly
pulled Tom by his ears
and
hit him on his head
with her
thimble
.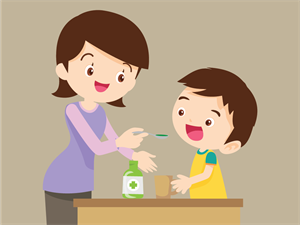 Aunt Polly giving remedies to Tom
Aunt asked how he could do that to a poor cat. He said that he
felt pity for the cat
as it
had no aunt
. Aunt Polly asked so what if the cat does not have any aunt got to do with his actions. Tom said that if the cat had an aunt, then
she would have burnt him out herself
and
roasted his stomach
and the cat would have reacted like a human.
Aunt Polly
felt pain
with her actions
towards the boy
. Suddenly she felt that she had done something was wrong. If a cat reacted so much after taking that medicine what the
young boy would have been going through
. She melted down a bit, felt the pain and tears came down, she put the hand on Tom's head assuring and said that
she was looking for the best for Tom
and that it did do some good to Tom.
Tom looked at her aunt with his twinkling eyes and said that he knew that
she was making sure to give him the best
, but that is what I was trying to do with Peter. It has done some good to Peter as well as
he is not seen around much
.
Aunt Polly asked him to
leave the place before she lose the patience
as she was annoyed by Tom's answers. She asks him to
try to be a good boy
at least once and that he need not take any medicines.
Meanings of difficult words:
| | | |
| --- | --- | --- |
| Numbers | Word | Meanings |
| 1 | Winced | Flinch. |
| 2 | Numbskull | Fool. |
| 3 | Gravity | Pull. |
| 4 | Thimble | A small metal or plastic cap with a closed end. |
State Council of Educational Research and Training (2019). Term-2 English Standard-9. The Cat and the Pain-Killer--(An Extract from The Adventures of Tom Sawyer) Mark Twain pp. 112-115). Published by the Tamil Nadu Textbook and Educational Services Corporation.