UPSKILL MATH PLUS
Learn Mathematics through our AI based learning portal with the support of our Academic Experts!
Learn more
Goods And Services Tax- GST
The goods and services tax (GST) is a value-added tax levied on most goods and services sold for domestic consumption.

The GST is remitted by the consumers and the traders and is one of the sources of income to the government.
Key Takeaways:
GST is an

Indirect tax

.
The GST is shared by the Central and State Governments

equally

.
GST is destination based

Tax

.
Types of GST:
Central GST, (

CGST

),
State GST (

SGST

),
Integrated GST (

IGST

) and for union territories, there is

UTGST

.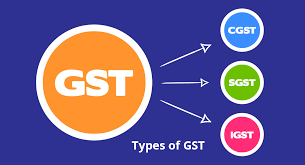 Products Under GST:
The products such as hair oil, toothpaste, soap, computers and processed food, etc., come under GST.
All these kind of products comes under the tax slab of \(5\%\), \(12 \%\), \(18 \%\) and \(28 \%\).
Exempted Products On GST:
There are also many products like eggs, honey, milk, salt, etc., which are

exempted

from

GST

.
Products like petrol, diesel etc., do not come under GST and they are

taxed separately

.