In the previous section, we did an activity with the
moving magnet around a fixed conductor
.
From that activity, we found that the
motion of a magnet with respect to the coil produces an induced potential difference, which sets up an induced electric current in the circuit
.
This process is called
Electromagnetic induction
.
Electromagnetic induction
:
Electromagnetic or magnetic induction is the
process of creating an Electromotive Force (EMF) or potential difference or voltage across an electrical conductor
in a
changing magnetic field
. It is also produced
when an electrical conductor is constantly moving in a stationary magnetic field
.
Michael Faraday
found
Electromagnetic induction
in \(1831\), and
James Clerk Maxwell
mathematically described it as
Faraday's law of induction
.
Faraday
discovered that certain
factors affect this production of voltage or potential difference
.
They are:
Number of Coils: The

induced voltage or potential is directly proportional to the number of turns/coils of the wire

. The greater the number of turns, the greater is the voltage or potential difference produced.
Changing Magnetic field:

Induced voltage or potential difference is affected by changing the magnetic field

. This can be done by either moving the magnetic field around the fixed conductor or moving the conductor in the stationary magnetic field.
Faraday's law of Electromagnetic induction:
First law
:
Whenever a coil in the
magnetic field causes an Electromotive Force
(
EMF
)
to be induced in the coil
, this emf induced is called
Induced emf
. The current will also
flow through the circuit if the conductor circuit is closed
, called
induced current
.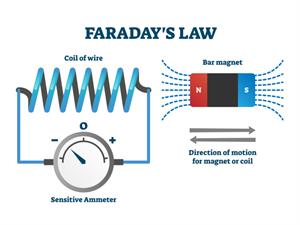 Faraday's Law
Second law:
Faraday's second law states that the
magnitude of emf induced in the conductor is equal to the rate of change of flux that linkages with the coil
. The flux linkage of the coil is the product of the number of turns in the coil and flux associated with the coil.
Applications of Electromagnetic induction:
Electromagnetic induction in AC generator
Electrical transformers
Magnetic flow meter
Electric guitars and Electric violins