Theory:
The name
Porifera
means organisms with
pores
. This species includes animals that are
non-motile
and attached to
reliable support
. They are commonly called as
sponges
and are mostly marine. These organisms contain
pores
all over their body which lead to a
canal system
. This canal is involved with circulating water throughout the body so that the
food
and
oxygen
are transported to the various parts. They are externally covered by
a rigid skeleton
made of
spongin

protein
and
calcium carbonate
.
The body of these organisms has a minimal differentiation as follows:
They show

cellular-level

of organisation
They

lack tissues

and organs.
Their body does not show any

segmentation

.
They are

acoelomates

.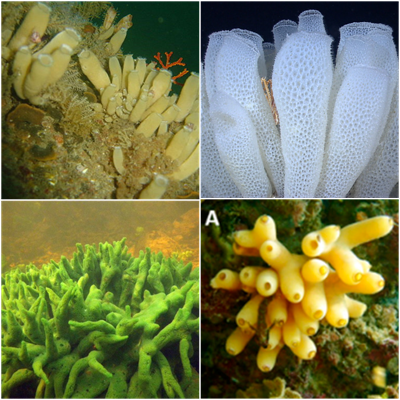 Clockwise from top left: Leucosolenia (smallest sponge), Euplectella (Venus flower basket), Spongilla (freshwater sponge) and Sycon
They are also known as cnidarians. These are aquatic animals that show more body design differentiation. They are often found as colonies, but like a hydra, some are solitary.
Their body is made up of two layers of cells: An

inner lining of the body

and

outside the body

. Hence they are known as

diploblastic animals

They show the

tissue level

of organisation
Their body

lacks segmentation

They

lack organs

They are

acoelomates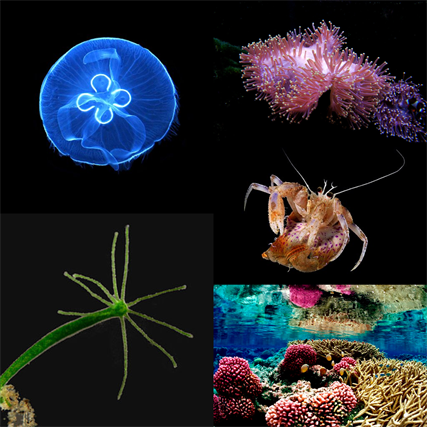 Clockwise from top left: Aurelia (Jellyfish), Sea anemone, Adamsia, Corals and Hydra
https://upload.wikimedia.org/wikipedia/commons/8/82/Sycon_sp.png
https://upload.wikimedia.org/wikipedia/commons/thumb/6/6b/Sponges_at_SAS_Transvaal_DSC09129.JPG/512px-Sponges_at_SAS_Transvaal_DSC09129.JPG
https://www.flickr.com/photos/noaaphotolib/9734258717
https://upload.wikimedia.org/wikipedia/commons/0/0b/Spongillidae_middle.jpg
https://upload.wikimedia.org/wikipedia/commons/thumb/7/71/Pagurus_prideaux.jpg/512px-Pagurus_prideaux.jpg
https://www.flickr.com/photos/usfwspacific/5565696408
https://upload.wikimedia.org/wikipedia/commons/thumb/0/0a/Mikrofoto.de-Hydra_15.jpg/512px-Mikrofoto.de-Hydra_15.jpg
https://upload.wikimedia.org/wikipedia/commons/thumb/5/5c/Aurelia_aurita_2.jpg/512px-Aurelia_aurita_2.jpg
https://www.flickr.com/photos/volvob12b/14231557292