Theory:
These animals have a more complexly designed body than the
Poriferans
and
Cnidarians
. They are free-living or parasitic animals.
The body design of
Platyhelminthes
:
Their body can be divided into

two equal halves

. Hence, they are

bilaterally

symmetrical
They have three layers of cells that make up differentiated tissues. Hence, they are known as

triploblastic

animals
Due to this, their body comprises of outside and inside body linings and organs for specific functions
They

lack segmentation

They are

acoelomates

As their body is

flattened dorsoventrally

(meaning from top to bottom), they are commonly known as

flatworms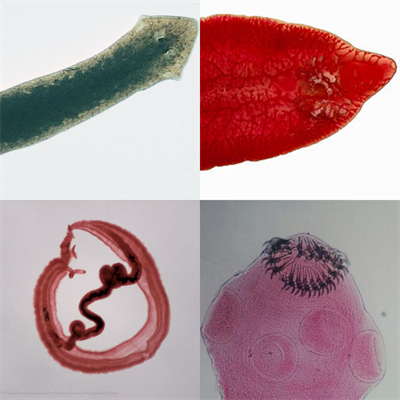 Clockwise from top left: Planaria, Fasciola hepatica (Liver fluke), Blood fluke, Taenia solium (tapeworm)
These are parasitic worms that cause diseases such as
elephantiasis and filariasis
. These are
sexually dimorphic animals
- female and male worms are distinct.
Body differentiation of nematodes:
These are bilaterally

symmetrical, triploblastic animals

They have

a cylindrical body

rather than the flattened one, and hence they are commonly known as

Roundworms or Pinworms

They have

tissue-level of organisation

They lack organs
These are

pseudocoelomates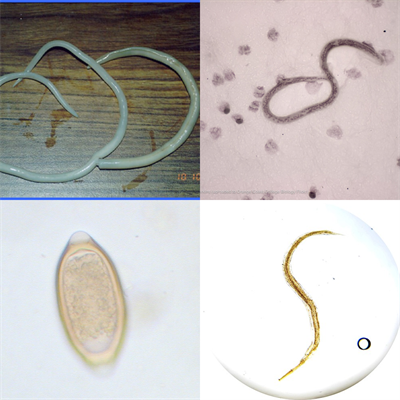 Clockwise from top left: Ascaris lumbricoides (roundworm), Wuchereria bancrofti (filarial worm), Trichuris (whipworm), Enterobium vermicularis (pinworm)
https://www.flickr.com/photos/carolinabio/8225394736
https://upload.wikimedia.org/wikipedia/commons/thumb/4/43/Fasciola_hepatica_%28Linnaeus%2C_1758%29_2013_000-2.jpg/512px-Fasciola_hepatica_%28Linnaeus%2C_1758%29_2013_000-2.jpg
https://www.flickr.com/photos/occbio/6414501563
https://upload.wikimedia.org/wikipedia/commons/9/9b/Taenia_solium_scolex_x400.jpg
https://www.flickr.com/photos/gtzecosan/15701719491
https://www.flickr.com/photos/occbio/6414497563
https://www.flickr.com/photos/gtzecosan/15703630875
https://upload.wikimedia.org/wikipedia/commons/thumb/e/e5/Enterobius_vermicularis-1.jpg/512px-Enterobius_vermicularis-1.jpg