PUMPA - THE SMART LEARNING APP
Take a 10 minutes test to understand your learning levels and get personalised training plan!
Download now on Google Play
pH refers to the
potential of hydrogen
or the
power of hydrogen
. The pH scale ranges from \(0\) to \(14\), which is used to indicate whether a solution is
acidic, basic or neutral
.

pH scale
The pH of acids, base and neutral solution are listed below:

Acid: pH < \(7\)
Base: pH > \(7\)
Neutral: pH = \(7\)
What is the best way to determine the pH of a solution?
A solution's pH can be measured using a
universal indicator
. It is made up of a number of different colours. It is available as a
solution
or as a piece of
pH paper
.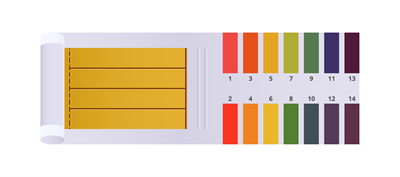 Universal indicator as pH paper
Universal indicator as solutions
pH of some things around us: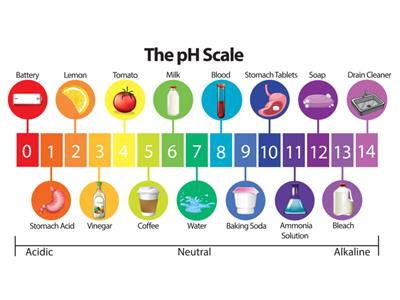 pH scale
Importance of pH in daily life
Our bodies work in a pH range of \(7.0\) to \(7.8\). Only a small range of pH change allows living organisms to live.

pH in our digestive system:
Our stomachs contain
hydrochloric acid
, which helps in
food digestion
, thus causing no harm to the stomach. The stomach produces too much acid during indigestion, causing pain and irritation. The pH of stomach fluid is about \(2.0\).
pH of soil:
The pH of the soil is important in agriculture. For example,
citrus fruits
require slightly
alkaline soil
, while
rice
and
sugarcane
require
acidic soil
and
neutral soil
, respectively.
pH of rainwater:
The pH of
rainwater
is approximately \(7\), which indicates it is
neutral
. If the atmospheric air is polluted with
sulphur and nitrogen oxides
, they get dissolved in rainwater and make the rainwater's pH less than \(7\). Acid rain is described as rainwater with a pH of
less than
\(7\). Acid rain decreases the pH of river water as it falls into them. In such rivers, aquatic life has a hard time living.
Some solution's pH are listed below:
| | |
| --- | --- |
| Solutions | pH range |
| Blood | \(7.3\) - \(7.5\) |
| Saliva | \(6.5\) - \(7.5\) |
| Gastric juice | \(1.0\) - \(3.0\) |
| Rainwater | \(7\) |
| Seawater | \(8.5\) |
| Tomato juice | \(4.0\) - \(4.4\) |