Theory:
Temple construction under the Pandyas:

The Construction of temples under the Pallavas was carried forward by their contemporaries the Pandya's. The architectural style of the Pandya's is a blend of Structural and Monolithic temples.
The rock-cut temples of the Pandya's contain "
Monolithic Vimanas
". Some of the important rock cut temples are found in Anaimalai, Thirupparankundram, Karaikudi, Kalugumalai, Trichy and Malayadikurichi.

Most of the cave temples and rock-cut temples are built under the patronage of Lord Shiva and Vishnu.
Structural temples of the Pandyas:

The Structural temples established by the Pandyas contained all the features of the large temples like the Vimana, Shikara and the Mandapas.

The Shiva temple witnessed a giant leap in their external structure under the rule of the Pandyas. The main sanctum consists of the "Linga '' which was carved from a single rock with a "Nandi '' in front of the Mahamandapa.
Gopurams: The rectangular entrance of the temples with lofty structures are called the Gopurams.
Meenakshi Amman Temple (Madurai)
:

The Pinnacle of Pandyan architecture was found in the Meenakshi Amman temple of Madurai. This temple was built by "Kulasekara Pandiyan" during his rule.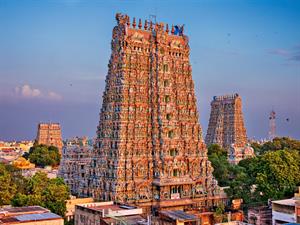 The temple served as an epitome of Dravidian architecture with gopurams, gate towers, pillared halls and reservoirs for ritual bathing.

Ayiram kaal mandapam: The gigantic \(1000\) pillar structure was built from a Monolith by Ariyanatha Mudaliar in \(1569\) which is situated inside the Meenakshi Amman temple.
Meenakshi Amman temple contains \(15\) stories and the main Gopuram stands approximately \(170\) feet tall. The temple also contains "Mandapams / Ornate Pillared halls".
2. Nellaiappar Temple (Tirunelveli):
This temple was built by "Nindrasir Nedumaran" in the 7th century, which was considered as one of the finest architecture of the Pandyan dynasty.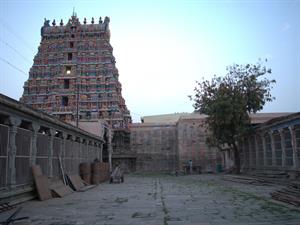 Nellaiappar Temple
The Gopurams present in the temples are built according to the "Agama Shastras" which displays an epitome of architectural brilliance.
Agama sastra
: It is a "
Sanskrit term
" which served as a manual for temple building, rituals and worship.
It is believed that "Thirugnana Sambandhar" a great Shaiva Saint, was instrumental in converting Nindrasir Nedumaran to Shaivism, as he was a great patron of Jainism.