PUMPA - THE SMART LEARNING APP
Take a 10 minutes test to understand your learning levels and get personalised training plan!
Download now on Google Play
Theory:
In this module, lets learn about the basics of central government.
India has a
separate
system of administration for the
Union, States and Union territories
.
Students, what comes to your mind when you hear the word
'Parliament'
?
Parliament
is a
legislative body
of government i.e it basically
makes laws
for the country.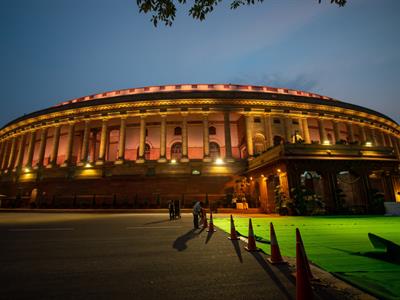 The
power
is
divided
between two sets of governments one at the
central
in Delhi and separate governments for all the
states
. This is called as
federal system
.
India is a
Parliamentary democratic republic
where the
President
of India is the
Head of Indian Union
and the
Prime Minister
and all the Ministers are responsible for smooth running of the government. This is called
central government
.
Parliament =
Rajya sabha (Council of states)
+
Lok sabha (House of people)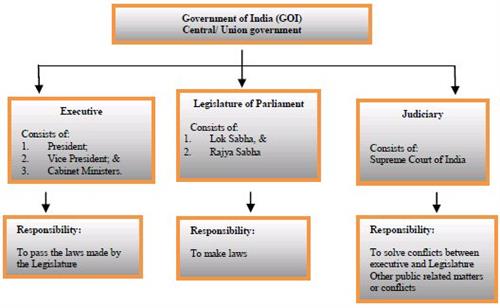 Parliament consists of two houses namely,
Rajya Sabha
and
Lok Sabha.
their composition and functions of each houses will be discussed in higher standards. The members of Lok Sabha and Rajya Sabha are called
Members of Parliament
(MP).
The Term of President is \(5\)
years
.
The Term of Prime Minister is \(5\)
years
.
The Term of Lok Sabha members is \(5\)
years
.
The Term of Rajya Sabha members is \(6\)
years
.
This is a basic explanation for the Central government; you will learn in detail about the Central government in higher classes.
Current Affairs:
President of India :
Ram Nath Kovind
(\(2017 - 2022\))
Prime Minister of India :
Narendra Modi
(\(2019 - Present\))
Defense minister of India :
Rajnath Singh
(\(2019 - Present\))
Finance minister of India :
Nirmala Sitharaman
(\(2019 - Present\))
Lok Sabha speaker :
Om Birla
Rajya Sabha speaker :
Venkaiah Naidu
( Vice President )
PradeepGaurs / Shutterstock.com
https://www.mondaq.com/india/constitutional-administrative-law/654326/constitutional-framework-of-india