Theory:
The main reason why India attracts all types of tourists is India has all types of tourist destinations in one place. India is the right place for safaris like wild safaris, desert safaris, nature seeking places, honeymoon spots, adventurous activities, spiritual places, and historical places of India.
Scenic attractions like Mountains, Lakes, Waterfall, Glacier, Forests, and Deserts are the major features attracting people to visit India. India is blessed with nature and gifted with immense beauty, from steep rolling hills to breathtaking deep valleys and snow-covered mountains to lush green carpets.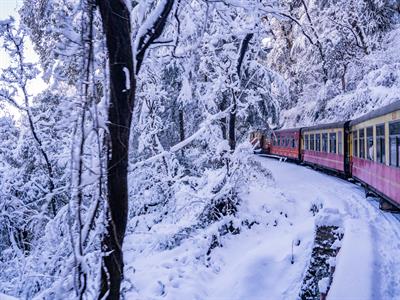 Kalka–Shimla railway
The Indian sub-continent has
Seven principal mountains ranges
, and the largest of all is the
Himalayas
. The Himalayas lie in the northern part of India. Most of the Himalayan hill stations in India are located in states of Jammu and Kashmir, Himachal Pradesh, Uttarakhand, Sikkim, West Bengal, Arunachal Pradesh, Nagaland and Meghalaya. Tamil Nadu, Kerala, Karnataka and Maharashtra have hill stations in the
Western Ghats
. Andhra Pradesh, Odisha have hill stations in the
Eastern Ghats
.
shalender / Shutterstock.com