Theory:
The Art and Architecture under Bahman Sultans:
The rulers of the Bahman kingdom were great patrons of art and architecture. They had built towering edifices which shows the skill of artisans who existed during the Bahman period.
The Bahmani architecture was highly influenced by the styles of "

Persian architecture

", which was a result of patrons visiting the empire from various West Asian countries.
Some of the finest examples of Bahman architecture are given below.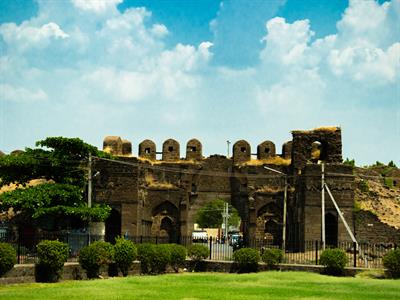 The Gulbarga Fort
The Fort of Gulbarga and Jama Masjid
: This structure stands tall on the territories of Gulbarga, which was constructed during the reign of
Mahmud Gawan
.
He also built Madrasa and Fort in Bidar, which stands the test of time.
Gol Gumbas:
The "
Whispering gallery
" located in the Gol Gumbas is of high significance and referred to as an architectural marvel of the Bahmani Kingdom.
Chand Minar
: This architectural epithet is built with the styles of Persian architecture, is located in
Daulatabad
.
The architecture of the Bahman Sultanate had a unique feature of building tombs which they got inspired from the architecture of the Delhi Sultanate. The tombs are built in two styles namely,
1. Single tomb.
2. Double tomb.
Apart from these features, the Bahman architectures are famous for its Cloisters and Square arches.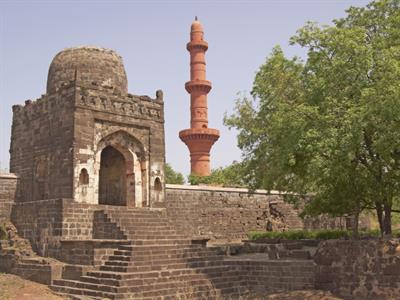 Chand Minar
The sultans of the Bahman kingdom had a great interest in the field of education.

Alauddin Bahman Shah

the founder of the empire was a great patron of education who built schools for the education of his sons.
The successive rulers have shown keen interest in education who later went on to build many resting places for students who are coming to attend the Madrasas from various places.

Mahmud Gawan

builds a Madrasa in

Bidar

with a library that served as a great centre of education.
The End of Bahmani Kingdom:
After the death of the last able ruler Mahmud Gawan, the Bahman empire had successive kings who were puppets in the hands of Nobles. The Death of Gawan also witnessed the Migration of valiant commanders and loyal entities of the kingdom to other kingdoms.
The infighting among the existing rulers sounded the death knell to the mighty

Bahmani

kingdom which was split into

five

small kingdoms and collectively they are known by the name of

Deccan Sultanate

.
The five kingdoms that emerged after the disintegration of the Bahman sultan are,
1.

Bijapur

.
2.

Golconda

.
3.

Ahmednagar

.
4.

Bidar

.
5.

Berar

.