Roots of Virapandya Kattabomman:
The roots of Kattabomman can be traced back to
Andhra
as their ancestors belong there, but Kattabomman was born in
Panchalamkuruchi
in
Tirunelveli
. Jagaveerapandiyan ruled Virapandiyapuram as a feudatory of Pandya, who later became a Poligar, with Panchalamkurichi as its capital.
FACT FILE: Virapandya kattabomman: Jagaveerapandyan's rule was taken over by his son Virapandya Kattabomman who carried his reign with his wife
Jakkammal
and his brothers.
THE CHANGE OF AUTHORITY AND THE ORIGIN OF THE TUSSLE
1. The Mughals expanded their footprints in South India post the decline of the Vijayanagar empire. And also appointed
Nawabs
as their representatives of South India so that they can assist them in ruling southern states without hindrance.
2. As a cordial relationship between the
Nawab of Arcot
and the Panchalamkurichi Palayam existed even before the advent of Mughals, they were paying their tributes regularly to the Nawabs until 1792.
3. The political landscape changed drastically after the signing of the
Carnatic treaty in 1792
, where according to the treaty the rights to collect the tributes from Panchalamkuruchi were changed from the hands of Nawabs to the hands of
British company
.
4. This issue was the genesis of the Inception of enemity between Virapandiyan and the English company.
The Jackson, Kattabomman Faceoff:
Colin Jackson

who was the collector of

Ramanathapuram

in 1798 asked tributes from Kattabomman, where Kattabomman explained the precarious condition of his state which was reeling under Famine. This reply angered the collector.
The Government of Madras asked Jackson to summon the Palayakkarar to Ramanathapuram and have a discussion with him, at that time the collector was accepting the condition of Kattaboman but treated him with disgrace.
At a point, the collector ordered his forces to arrest Kattabomman and his Minister, but that attempt was thwarted by Kattabomman's brother

Oomaithurai

. Unfortunately, his minister

Sivasubramaniam

was caught by the British forces.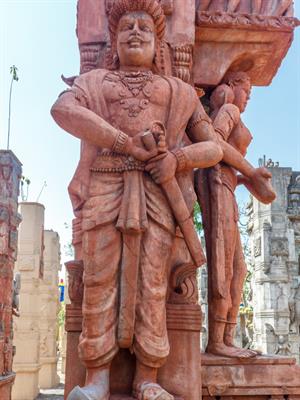 Virapandya Kattabomman
*FACT FILE:
Edward Clive:
He was the Governor of Madras council which ordered the removal of Jackson due to his reckless behaviour to Kattabomman, and further called the Palayakkarar to appear before the committee to prove his innocence.