The lesson "
The Hundred Dresses I
" is written by
Eleanor Estes
. The protagonist of the story is
Wanda Petronski
, a polish girl who studies in an
American school
. The lesson narrates how the American girls treated a
polish girl
.
The story opens in a classroom on
Monday
. On that day, Wanda Petronski was not in her seat. But her absence was not even noticed by anybody. Even
Peggy
and
Madeline
have not noticed her absence. These are the girls who started all the fun in the classroom (The fun is revealed later in the story).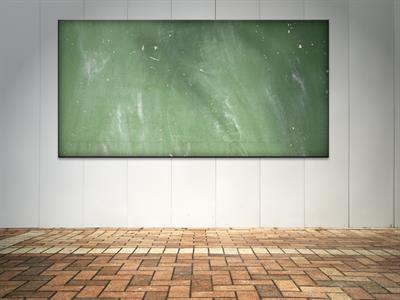 A classroom
Wanda usually occupied her seat next to the last seat in the last row in
Room Thirteen
. She sat in the room's corner where the rough boys usually sat. Here, rough boys, in a sense, used to refer to the boys who used to make noises and play during
class hours
. Also, they didn't get good grades in their exams. In addition, one can hear the
loudest laugh
in the room's last area. The boys would make laughing when anything amusing was spoken. Also, the sound of feet shuffling was heard in between. Moreover, while looking at the floors it was covered with mud and dirt. The muds and dirt were from their shoes or sandals.
The narrator said that Wanda used to sit there as she was not a
rugged
and
noisy person
. While looking at the previous paragraph, one can find that the rough and loud people used to sit on the last bench. When it comes to Wanda, she was not sitting there because of
roughness
. On the contrary, the narrator said that she was a
calm person
. She used to speak rarely to others. Even nobody in the classroom heard her loud laugh. When someone said anything to her, she would smile unevenly. It means that she wouldn't smile
pleasantly
. She used to smile gloomily by
twisting her mouth
.
The narrator then said that no one in the
classroom
knew why Wanda sat in the
corner
of the
seat
. She might have sat in the corner because she had travelled from
Boggins Heights
(an area where poor people live), and her
feet
were often covered in
dried mud
. However, after
Wanda Petronski
took a seat in the
class's corner
, nobody was
concerned
about her.
Wanda's classmates used to think of her when the class got over. They used to think about her during
lunch break
,
morning time
while coming to
school
and even before school began. Whenever her classmates (
a group of two, three or more girls
) came to school, they used to
talk
and
laugh
about her on their way to the
schoolyard
. Here, one can find that her classmates would make her fun until she arrived at school.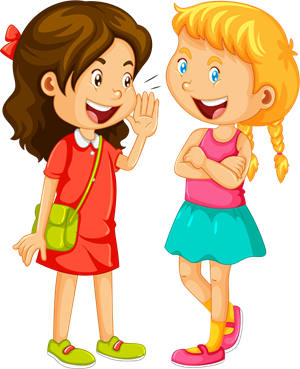 Girls talking and laughing about Wanda
The narrator continued by stating that occasionally even the girls waited for
Wanda
to make fun of her. The next day arrived, and it was
Tuesday
. Wanda was not in her
seat
, and nobody noticed her
absence
again in the
classroom
.
The narrator then describes the
first bench students
and how they are
good at their studies
. On
Wednesday
, Peggy and Maddie (the girls who used to make fun of Wanda) sat in the front row with the other children. Those children used to
score good marks on the examination
. Also, their shoes were not covered with a
whole lot of mud
. Here, one can find the differentiation between the first and the last bench students. The first benchers were the top scorers; their sandals were not covered with mud, while the last benchers were the least scores, and their sandals were
immersed
in dried mud.

First bench students
On that day, Peggy and Maddie didn't even notice that Wanda was not in the
classroom
. The narrator then describes the
appearance of Peggy
. She was the most
famous
girl in the school. Peggy looked very
beautiful
, had many
lovely clothes
, and her hair seemed
gorgeous
with
curls
. Also, her
close friend
was
Maddie
.
The narrator then describes how
Peggy
and
Maddie
noticed
Wanda's absence
. Peggy and Maddie waited for Wanda to make fun of her in the
schoolyard
. But on the contrary, Wanda did not come. That was the reason
Maddie
and
Peggy
came late to school. The two girls (Maddie and Peggy) frequently waited for Wanda to have fun with her. This shows how often they get late to school. Then the narrator describes how the girls make fun of Wanda's name. Most of the children in
Room Thirteen
did not have names like Wanda. Instead, they had names easy to
pronounce
. The names were probably
Thomas
,
Smith
or
Allen
. There was a boy named
Bounce
, whose actual name was
Willie Bounce
. The children in the classroom thought that his name was funny. But they didn't feel his name was as funny as
Wanda's
.
Wanda did not have any
friends
in
school
. She used to come to school alone and go back home alone. She used to wear a
dull blue dress
that didn't fit her well. Her dress looked
clean
, and it seemed that it had never been
ironed
properly. Although she didn't have any friends, several girls spoke to her. When Wanda stood in the
playground
watching the little girls playing
hopscotch
on the
mud-filled playground
, some girls would
encircle
her.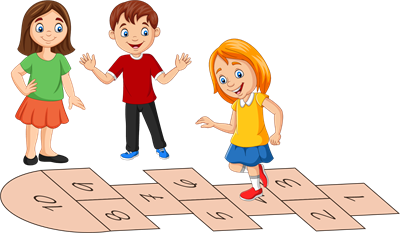 Hopscotch
When Wanda was in the playground, Peggy used to go near her. She used to speak to her
gently
as she used to speak to her teacher Miss Mason. Then she would call her name and give a light push to her friend (
to make fun of Wanda
) and ask how many dresses she had hanging in her closet.
After hearing that, Wanda would say, "
A hundred
". At the same time, all the girls standing near her were
astonished
and
exclaimed
, "
A hundred
!" The little ones playing hopscotch would stop and listen to Wanda's talk. After seeing their expression, Wanda would reply that she had a
hundred dresses lined up in a row in her closet
. After telling that, "her thin lips drew together in silence". Here, the narrator expresses how
soft
she is and her
calmness
.
After hearing about a hundred dresses lined up in the cupboard, Peggy asked Wanda whether all dresses were made of
silk
. Wanda replied that all were silk and they were of
different colours
. Peggy then asked Wanda whether
velvet clothes
were there in her
cupboard
. She even agreed that she had velvet clothes. Wanda then repeated that she had a hundred dresses lined up in her closet in an
unemotional way
.
Then the girls allowed Wanda to go. The girls would start laughing and shouting when Wanda moved from there. Even Wanda wouldn't have gone far, but the girls would make fun of her. It means that Wanda can hear them
laughing
and
commenting
. They couldn't control the things Wanda said, and they burst out in
laughter
. Then the girls made fun of her by telling them that she had only one faded blue dress she wore every day, and then how come she would have a hundred dresses in her
closet
. Once she left the place, the girls started making fun of her by discussing the story Wanda said.
The girls then asked her how many shoes she had. Immediately Wanda replied that she had
sixty pairs of shoes
and all that lined up in her closet. Then the girls pretend to be complete
politeness
and ask whether they all look the same. Wanda then said that each pair differs from one other. Each pair seemed different in colour, arranged in the order in the closet.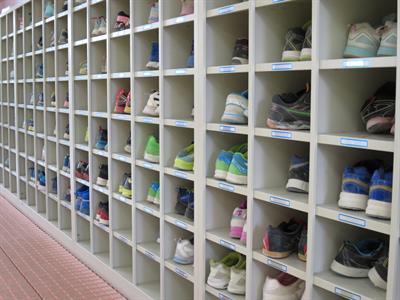 Sixty pairs of shoes in cupboard
Peggy, the one who started the dress game and her best friend,
Maddie
, were usually the
last to leave the school
. After hearing the funny talk, Wanda would move slowly along the street with her
lips shut
. Her eyes seemed very dull. She continued the walk to school by herself, sometimes
bending down her left shoulder
strangely.
The narrator then describes the character of
Peggy
. She was not a
cruel girl
. She saves many small children from the
bullying
of other classmates. Also, she would feel
pity
and
cry
for hours if she saw any animal being
mistreated
on the road. In addition, the narrator said that if anybody asked Peggy why she was cruelly treating Wanda, she would be
surprised
. She would reply to them that she was not treating her cruelly. She would ask why the girl told lies to everyone that she had a hundred dresses. While hearing it, everyone can understand that Wanda was telling a lie. Then she asked why there was a need to tell a lie. After telling all these things, Peggy would say that Wanda wasn't an
ordinary person
. If she was normal,
why did she have such a weird name
? Moreover, the girls had never made her
weep
.
The narrator then said that when Peggy asked Wanda how many
shoes
,
dresses
, and
hats
she had, Maddie felt
embarrassed
. While hearing this, Maddie felt bothered about something. The thing which bothered Maddie was that she also belonged to a
poor family
. She used to
wear dresses
which were offered by
someone
or
reused dresses
. The narrator said, "
Thank goodness
" she didn't have a
strange name
or live up on
Boggins Heights
. Here the expression "
Thank goodness
" means that thank god, as she was not coming from Boggins Heights or having a strange name, Maddie escaped from the fun of
Peggy
.
Maddie didn't feel very
comfortable
teasing
Wanda
. When Peggy used to ask Wanda questions like how many dresses she had, she would silently count the
marbles
in the palm of her hand, pretending to play with them. These reaction doesn't mean that Maddie was feeling
sad for Wanda
. The narrator said Maddie wouldn't have paid attention to Wanda if Peggy hadn't started the dress again. Then Maddie doubted that Peggy and other classmates would start to treat or question her as they did for Wanda. Maddie was not as
poor
as Wanda, but she was not
rich
.
Moreover, the narrator said that Maddie naturally would be
smarter
than claiming to have a hundred gowns. But she still does not want them to start in on her. It means that even Maddie could tell she had a lot of clothes, but she didn't like the girls to turn over to her and ask the same questions as Wanda. Maddie desired Peggy should stop making fun of
Wanda Petronski
.
Wanda didn't come that day. Maddie and Peggy got to school late after having waited so long. Maddie secretly felt happy that the girls could not get a chance to make fun of Wanda. She was lost in her thoughts and couldn't concentrate on her
arithmetic problems
. Then she said, "
Eight times eight — let's see"
. It means that she was telling them something, and her mind was not concentrating on her studies. She was bothered about whether her friends would tease her like Wanda.
All this time, she kept assuming about
writing a note to Peggy
. She didn't dare to talk in front of Peggy. Even though Peggy was her best friend, she didn't dare to tell her what she thought. She even didn't have the
guts
to tell her to stop asking Wanda how many dresses she had. After finishing her
arithmetic problems
, Maddie started writing a letter to Peggy. When she started, she paused in between while thinking about the
future
. While writing the note to Peggy, Maddie shook at the imagination of her being a new target for Peggy and the girls. She was afraid they would ask where she got
Peggy's dress
. Maddie's mother recreated Peggy's dress with
new laces
and
ribbons
so that none of her
classmates
could identify it.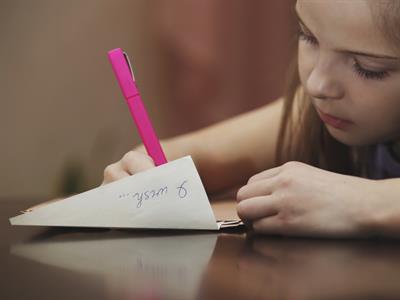 Maddie thought of writing a note to Peggy
Maddie then thought that Peggy should think herself to stop making fun of Wanda. Maddie then "
ran her hand through her hair
" as a
gesture
to drive away all those thoughts. Then she thought that if she wrote a note to Peggy, what difference it would bring. So she tore the notes into small bits.
Peggy was the best friend of
Maddie
. Everyone in the class liked Peggy. Since Peggy was
brilliant
and
beautiful
, everyone liked her. Maddie then thought that as she was a
bright girl
, she would not do
anything wrong
. It means that she would only make fun of her and that she won't cross her limits like teasing more.
After Maddie had cleared her thoughts about
confessing
to Peggy, she started thinking about Wanda. She thought Wanda was just another girl living in Boggins Heights. She stood alone in the
schoolyard
without anyone
accompanying
her. The only thing she used to speak in the schoolyard was about the hundred dresses. Maddie then remembered Wanda telling about one of her
pale blue dresses with coloured trimmings
. Then she remembered another dress which was green coloured. The green resembled the colour of the jungle, and it was with a red sash. After hearing that, the girls made fun of her by saying that Wanda would look like a
Christmas tree
in that dress.
While Maddie was thinking about Wanda and her hundred dresses in the closet, she immediately remembered the contest. A drawing and colouring contest was going to happen in the school for boys and girls. Girls used to
design dresses
, and boys had to design
motorboats
. After thinking that, Maddie thought that Peggy would win the girl's medal. As we learnt earlier that Peggy was an intelligent girl, Maddie would have thought in such a way.
Peggy can draw
attractively
. She used to draw in a better way than anyone in the class. Then Maddie said that even everyone would agree with the same thought. Then she said that Peggy would draw the picture of a
magazine
or the
film star's image the same way it appears
. Almost while looking at the picture, anyone can guess whose face it was. Maddie was sure that Peggy would win the
contest
. She then thought that the teacher would announce the winner the next day, and everyone would come to know who the winner was.
It was
drizzling
the next day.
Maddie
and her friend
Peggy
hurried to school under
Peggy's umbrella
. They didn't wait for Wanda Petronski at the corner of
Oliver Street
. Usually, they used to wait at the corner of Oliver street to ask questions to Wanda.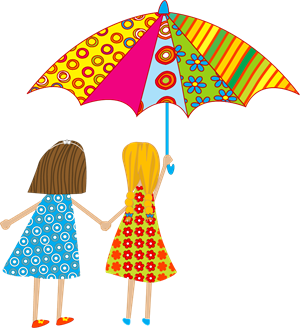 Peggy and Wanda hurried to school under one umbrella
Wanda comes from
Boggins Heights
. The street that went to Boggins Heights was far from away. One should walk under the
train tracks
and up the
hill
to reach Boggins Heights. Maddie and Peggy usually wait for her at the corner, but they didn't wait for her that day. Since they know that if they wait there, they will be late for school. Also, the day was very important for them, so they didn't wait for her. Peggy then asked Maddie whether she thought that their teacher
Miss. Mason
will announce the winners today. After hearing that, she said she hoped so. Also, she said that anyhow Peggy would win the
competition
.
After that, Peggy said that she also hoped the same. When they entered the
classroom
, both of them
breathed heavily
. As they were walking fast, they felt gasping once they reached the school. The drawings were all over the room, on every
ledge
and
windowsill
. The drawings were filled up with
dazzling colours
and
lavish designs
. All the people who participated in the competition did their drawings on
great sheets of wrapping paper
. There were hundreds of drawings lined up in the room. These were the
contest drawings
. Everyone came to the
classroom
,
whistled
or
muttered
admiringly.
The teacher announced the
contest winners
when the students assembled in the
classroom
. She announced that Jack Beagles had won on the boy's side. He had drawn an outboard motor. The drawing was kept on
exhibition
in
Room Twelve
, along with the drawings of other boys.
Then the teacher started telling about who won the prize on the girl's side. She said that most of the girls submitted one or two sketches. Then she added that only one girl from Room Thirteen designed hundreds of designs. Also, she said she was proud of that girl because all the designs seemed different and beautiful. The teacher then said that the judges believed that any of the drawings deserved the award. She said that she was very happy to announce that the winner of the girl's medal was
Wanda Petronski
.

Children clapped their hands in excitement
After telling them that, the teacher said that, unfortunately, Wanda had been absent from school for some days. In addition, she said that she was not here to get this applause and she meant that the competition
won
because of her. Then she asked everyone that let them hope that she would be back to school tomorrow. Then the teacher asked the children to roam around the class in line to explore the
extraordinary

drawings
. After hearing that, the children felt happy and started clapping their hands. The boys were glad they got the chance to stamp on the floor, put their fingers in their mouths, and whistle. Usually, these things won't happen on ordinary days. Due to the
competition
and the prize, the teacher made them enjoy their day. Since the boys were not interested in looking at the dresses, they enjoyed their day by stamping on the floor and putting their fingers in their mouths, and they
whistled
at each other.
Later, Maddie asked Peggy to look at the blue dress, which she told them. Then she asked her whether it looked beautiful. After hearing that, Peggy replied that yes, it seemed beautiful. Then she said there was a
green colour dress
. Then Peggy said, "
Boy, and I thought I could draw
." Here, a boy is denoted as an expression. It means, Oh man, or oh dude. Here Peggy tries to say that she thought of drawing that green coloured dress which Wanda drew.