When Tux Paint initially loads, a title/credits screen will appear.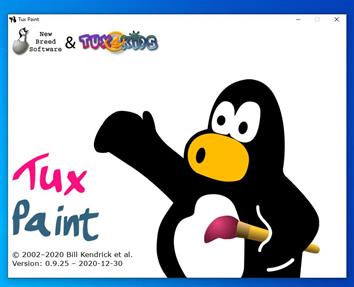 Once loading is finished, press a key or click on the mouse to continue. (Or, after about \(30 seconds\), automatically, the title screen will go away).
The main screen is split into the following sections:

This toolbar contains the

drawing and editing controls

.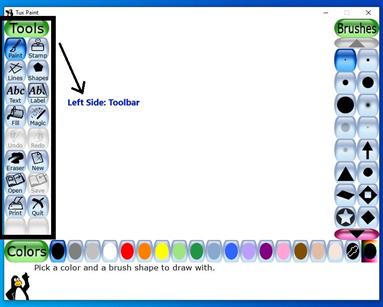 2
.
Middle
:
Drawing Canvas
The most significant part of the screen, in the centre, is the drawing canvas. Drawing canvas is the

space where you draw

.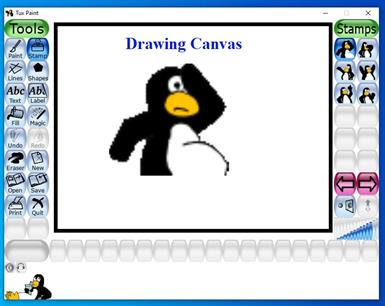 The size of the drawing canvas is based on the
size of the Tux Paint
. You can vary the size of Tux Paint using the
Tux Paint configuration tool
.
Based on the

current tool

, the selector shows

different options related to the selected tool

.
Example:
The

paintbrush tool

is selected; it shows the

various brushes

available.
When the r

ubber stamp tool

is selected, it shows the

different shapes

you can use.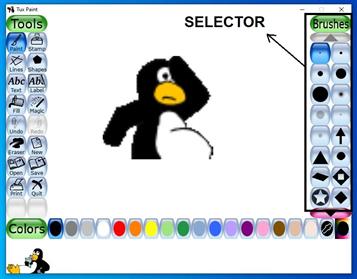 A palette of available colours is shown near the bottom of the screen.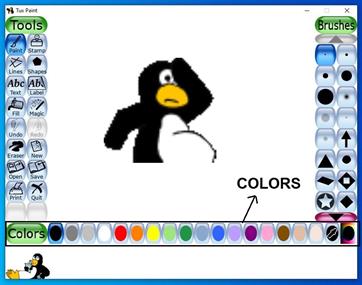 On the far right are
two unique colour
options, the "
colour picker
", which has an
outline of an eye-dropper
and allows you to pick a colour within your drawing, and the "
rainbow palette
", which allows you to
pick a colour from within a box containing thousands of colours
.
Tux, the Linux Penguin, provides

tips and other information

at the very bottom of the screen.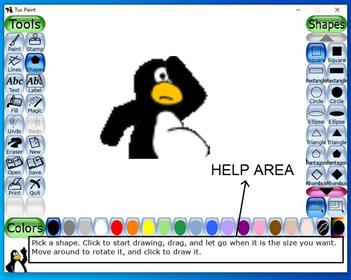 http://www.tuxpaint.org/docs/en/html/README.html