PUMPA - THE SMART LEARNING APP
Take a 10 minutes test to understand your learning levels and get personalised training plan!
Download now on Google Play
Theory:
The picture or image that raster graphics creates is entered '
as file and data
'.
The Pictures are of two types;
Raster Graphics are created on the basis of
PIXELS
.
The photos taken by the camera and the photos scanned by a scanner are of the
raster type
. When we enlarge this type of photo, we could see the pictures as rectangular layers or grids.
Raster File Types:
.png

(Portable Network Graphics)

.jpg

or

.jpeg

(Joint Photo graphics Experts Group)

.gif

(Graphics interchange Format)

.tiff

(Tagged Image File Format)

.psd

(Photoshop Document)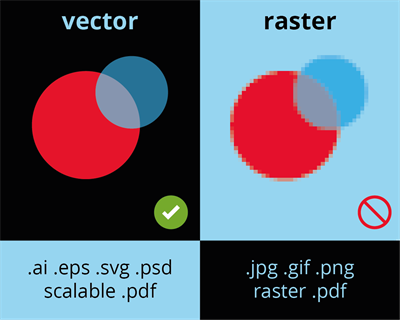 Picture shows vector Vs raster
The Software which edits the Raster Graphics:
Adobe Photoshop
Vector Graphics
As the Vector Pictures are created based of Mathematics, even when we enlarge the picture, its accuracy will not change.

Types of Vector Graphics Files
.eps

(Encapsulated Post Script)

.ai

(Adobe Illustrator Artwork)

.pdf

(Portable Document Format)

.svg

(Scalable Vector Graphics)

.sketch
The Software which we use to edit the Vector Graphic Images are
Adobe Illustrator
Sketch
Inkscape
https://pixabay.com/vectors/raster-vs-vector-artwork-5171211/